Marking An Anniversary
January 6, 2020 
The air was filled with screaming, both fighting and cheering. Some were in fear. People pushing against each other, wearing shades of red, waving flags. Some are wearing hoods, helmets, and gloves, while others are carrying cameras and Confederate flags. 
The US recently marked the one-year anniversary since the Capitol Insurrection on January 6, 2021. So what really happened that day?
10:58 am- Members of the "Proud Boys", a right-wing movement, charge towards the Capitol. One member says "we're taking our country back".
"
If you don't fight like hell, you're not going to have a country anymore."
— President Donald Trump
12:00 pm- A few minutes into his speech in D.C, Trump exclaims, ""I know that everyone here will soon be marching over to the Capitol building to peacefully and patriotically make your voices heard."
12:53 pm- The crowd outside the Capitol grows bigger and bigger. Right-wing protesters try to force their way through windows and doors, and some are climbing on the walls. Security guards are trying to calm the crowd, but it gets more violent. There are hundreds of video recordings taken of this scene by people inside the mob.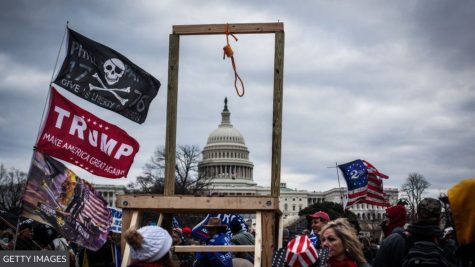 1:10 pm- Trump's speech ends with the infamous words "We fight. We fight like hell and if you don't fight like hell, you're not going to have a country anymore. So let's walk down Pennsylvania Avenue." These words would later be seen as incriminating to him. Capitol police call for backup and sends an evacuation warning.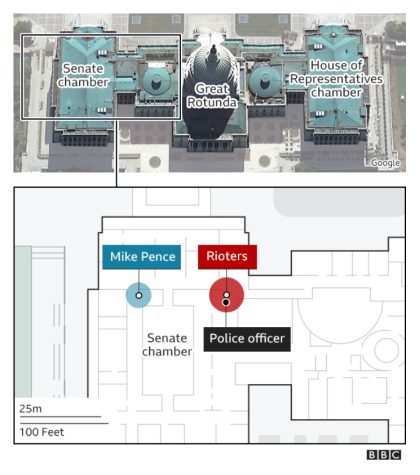 1:45 pm- Officers officially declare the incident as a riot.
2:13 pm- Former VP Mike Pence is evacuated from the building. Protesters break through the Capitol. They climb through broken windows and kick open doors to let the rest of the crowd in. A recess of the Senate is called. Senators and officials inside the Capitol run for safety. The protesters are heading for the Senate chamber. Many of them are chanting for Mike Pence to be hanged. Nancy Pelosi evacuates from the Capitol while her staff barricade themselves, hiding under a table. Many protesters are running through the halls searching for her.
2:24- Trump sends out a tweet about Pence. The mob spreads through other areas of the Capitol. House members are now prepared to use tear gas masks and hide.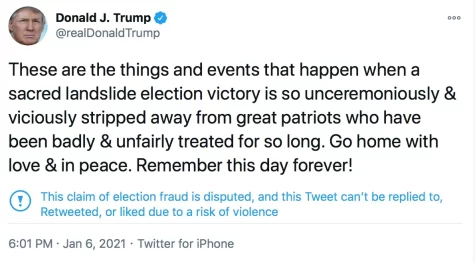 2:26- Senator Mike Lee alleges that at this point Trump called him. This was backed up by a copy of his call log. House impeachment managers say that at this moment, there is reason to believe that Trump knew how much danger Pence was in. 
2:41- Outside the House chamber, the coup tries to forcefully break through. The window loudly smashes and glass shatters on the floor. The mob is heard chanting "break it down, break it down". 
4:17- Trump releases a video on Twitter, telling the rioters to go home.