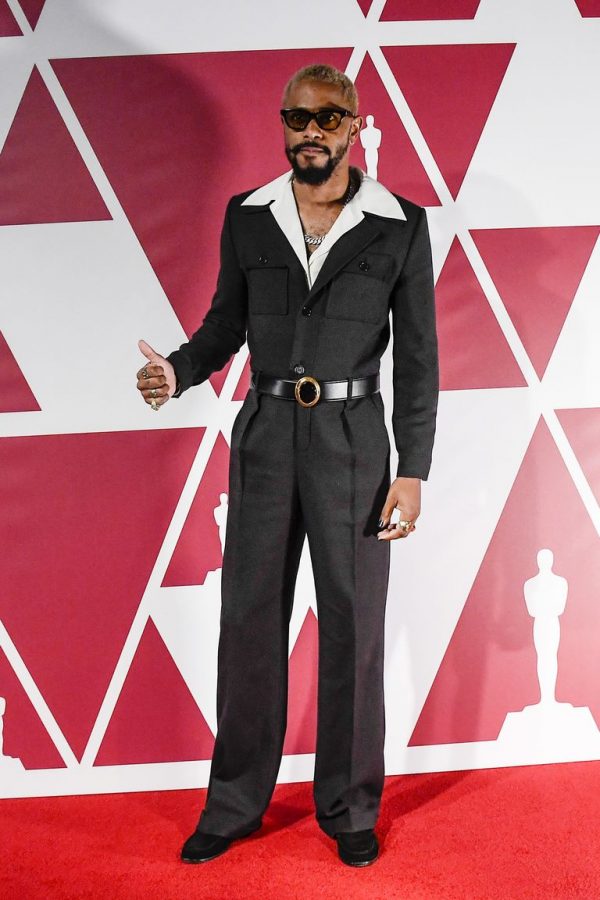 The Academy Awards, also known as the Oscars, is arguably the most important, elegant, and prestigious televised awards ceremony. Many viewers tune in hours before the ceremony to view red carpet footage, channeling their inner Joan Rivers and forming choice opinions on celebrities' fashion choices. This year, I too embraced my inner critic, and formulated a list of the 8 best dressed celebrities, ranked in reverse order, at the 2021 Oscars. 
8. Lee Isaac Chung
Chung fashioned a classic black and white suit, tailored to perfection. His addition of a metal chain and shiny patent leather loafers transformed the classic suit into a modern and edgy look.
7. Margot Robbie
Simplicity can sometimes be the most striking, and Robbie proved that when she wore a floor-length Chanel dress with neutral makeup and soft bangs. The dress is covered in silver flowers, but the simple bodice and lack of accessories (other than a few rings and neutral earrings) paired well with a busier dress. 
6. Olivia Cooke
Olivia Cooke wore a baby pink Versace gown covered in shimmery fringe. The geometric corset added an extra element of glamour to the look. Cooke wowed the public all the way from home, as she attended the Oscars virtually. 
5. Riz Ahmed
Ahmed wore a black wool Prada suit and a black t-shirt underneath. This untraditional suit really stood out, despite being simple. Ahmed kept accessories to a minimum by sporting only a watch, allowing his outfit to shine. 
4. Angela Bassett
The combination of puffy angel wing sleeves, bright red fabric, and elegantly slicked back hair made Angela Bassett an eye catcher at the Oscars. The fierceness didn't stop there— Bassett's dark blue smokey eye added extra drama to the look. 
3. Amanda Seyfried
While simplicity is key in some cases, bigger is better in others. Amanda Seyfried wore a cherry-red Armani gown with a plunging neckline, large silhouette with ruffles, and a sleeked back updo. Seyfried veered from the trendy slip or body con style dresses and embraced a big and bold gown (and looked fantastic while doing it). 
2. Zendaya
Zendaya wore a bright yellow Valentino gown with a cutout, long and wavy hair, and large silver necklaces. If anyone rocked a bold (almost neon) color at the Oscars, it was surely Zendaya. The cutout and abundance of flowy fabric are so flattering and unique, making Zendaya the runner up for best dressed. 
1. Lakeith Stanfield
Being named "best dressed" at the Oscars, to me, requires originality and nonconformance to fashion norms. Lakeith Stanfield ditched the traditional suit or tuxedo and wore a custom Saint Laurent jumpsuit. He paired the already fantastic outfit with tinted glasses, a chunky belt, a silver chain, rings, and painted black nails. Not many people can pull of combining gold and silver jewelry, but Stanfield did, and then some.
Rating and critiquing celebrities' outfits on red carpets is, for some, more entertaining than the awards ceremony itself. The best part about fashion is that it is subjective, so everyone can form their own opinions. My tier list is full of personal opinions, but at the end of the day all that matters is that someone feels confident in what they are wearing regardless of outside opinions.