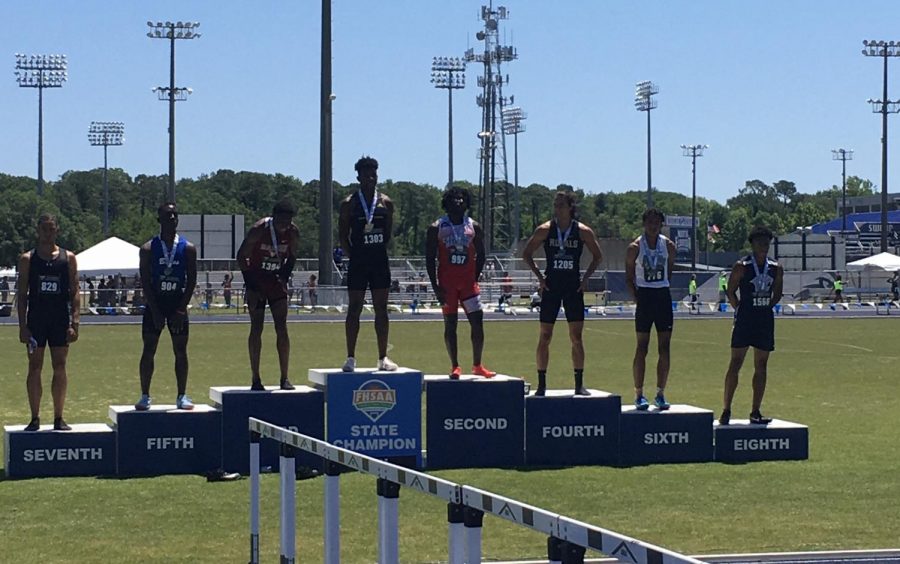 ILS senior Sebastian Giugovaz entered and exited Hodges Field on the campus of the University of North Florida in Jacksonville this past weekend with a record that will last. Giugovaz finished fourth in the 2A State Finals Boys 400 meter dash with a time of 48.91.
Giugovaz beat the school record of 49.26 that he had set on May 1st at Calvary Christian in Fort Lauderdale. This performance mark the fourth time Giugovaz has surpassed the school record this year.
"This weekend my concentration and abilities were put to test," Giugovaz said. "With the pressure that one faces before running a state race, I surprisingly didn't feel nervous. I knew that I had to run my race, and not think of other individuals who I knew were faster than me. I knew that I belonged there, and with some encouragement from coach Eddie, I put myself in the right mindset."
Running from the eighth lane and maintaining the Silver National Elite standard, Giugovaz fell just short of the bronze medal by 0.13 to be exact. He concludes his dominant three-year high school track career lowering his 400-meters time from 54 seconds as a sophomore to a whopping 48.91 as a senior.
"To break the 50-second, 400m barrier as a high school runner is an enormous achievement," head track and field coach Eddie Cerdeiras said. "Especially for an athlete that in his sophomore year was not even close to settling that mark."
Giugovaz exits ILS at the top of the leaderboards in the 400m, as a 51.98 time from Lucas Goncalves (2011) trails him in second. Junior Jude Servius (2021) is amongst the top three, with a time of 52.64. Giugovaz also finished with a respectable position in the 200m, sitting third in the school's all-time standings with a time of 22.69.
"Sebastian Giugovaz has been one of the hardest working young men I have ever seen in high school," ILS Athletic Director Nick Fernandez said. "He was determined this year to really make an impact in his last year of running track for the school, and he did just that."
Giugovaz is committed to Fordham University, where he will pursue a career in Communications. He hopes to continue to run track if the opportunity strikes.
"I'm proud of what I have done, and have renewed faith in the phrase 'hard work pays off,'" Giugovaz said. "I'm grateful for my coaches, who always believed in me and always gave me confidence in my capabilities, and wish the best for the track team next year."
View this post on Instagram