Doja Cat Caught in a Storm… Literally and Virtually!
Pop music sensation Doja Cat exploded and has "quit music" because of… Twitter.
Was it justified? Let's talk about it.
Doja Cat is an American singer and rapper who has taken the music industry by storm due to her online success. As a teenager, Doja Cat consistently wrote and produced her own music and uploaded them to Soundcloud, later moving on to release her first studio album in 2018, titled Amala (which unfortunately flopped horrendously). However, everything took a turn for the better when Doja Cat rose to fame later that year after releasing her satirical song "Mooo!" which went viral online. Since then, she has been capitalizing on her online presence and has grown wildly successful, releasing charting songs such as "Kiss Me More," "Need to Know," and "Say So."
On March 22, Doja canceled her performance at the Paraguay Asunciónico Festival due to weather concerns. Fans found her hotel's location and camped outside to meet her following the cancelation of the performance. Doja Cat did not go out and greet her fans, causing an uproar of backlash across social media. Later, on the 24th of March after her first show in Brazil, Doja Cat tweeted an apology. She explained that she could've given Brazil a better first show, but she promised to make up for it for the remaining Brazil show. Immediately, disappointed Paraguayan fans rushed to reply to this post to ask why Doja Cat never posted anything regarding the canceled show, the backlash only worsening.
Doja bitterly responds to the criticism with an "I'm not sorry," going on to post a myriad of tweets the day after announcing that she would be quitting music. "This (…) ain't for me so I'm out," she tweeted. "Y'all take care."
Many fans and haters alike have various opinions on the situation, and honestly, I understand both sides of the argument. While I understand why fans are upset, I believe the backlash to Doja Cat was a little extreme. Celebrities don't owe anyone free meet and greets (especially during times of rest) and I believe she most definitely doesn't owe anyone an apology for canceling a show for the safety of her audience. However, I think Doja Cat acted immaturely to these criticisms.. "Doja Cat never came out of the hotel and the fans were sad that she never even acknowledged them," explained sophomore Isabella Podolla, who is oddly well-versed on this situation. "The next morning, Doja tweeted "There was a storm in Paraguay, the show got canceled. When I left the next morning there wasn't one person outside the hotel waiting for me. Let that sink in." That's when fans started to lose their minds!"

I felt like quitting music due to this controversy was a little dramatic, but who am I to judge? Celebrities have to put up with so much every day, I wouldn't be surprised if this was merely her tipping point. I just wish she handled the whole situation better.
What do you think? Was Doja Cat in the wrong or do you think her actions were completely justified?
About the Contributor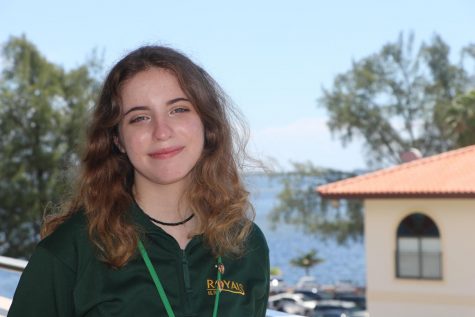 Danna Chalela, Writer
A member of the Drama Club, Danna is also Sophomore President of the SGA.