Need New Music? Check Out These Local Artists!
Being a city that thrives on the arts, the local music scene in Miami is one that is unmatched. As someone who is constantly trying to broaden my music taste, I find myself gravitating toward artists who made their start right here. At first, I began getting into the local music scene with the mere intention of having easier access to live performances; concerts and gigs for local artists are a lot more convenient (and affordable), meaning you'll never have to worry about your favorite Miami artists missing your city when going on tour. However, the more I delved deeper into this scene, I discovered some of my favorite artists of all time. I was lucky enough to be able to interview these artists. Here are some local artists you've got to check out!
—
Mustard Service is perhaps one of the most well-known and loved artists on this list, earning ≈230,000 monthly listeners (Spotify). Mustard Service is a 5-member indie rock band that formed in 2015, composed of Marco Rivero (lead vocals/guitar), Gabriel "Nuchi" Marinuchi (guitar), Augusti Di Catarina (bass/backing vocals), Adam Perez (drums) and Leo Cattani (keys). Their music has a clear rock, jazz, and bossa nova influence, but when asked to describe their sound, they simply said, "It's just a few notes put together; no big whoop."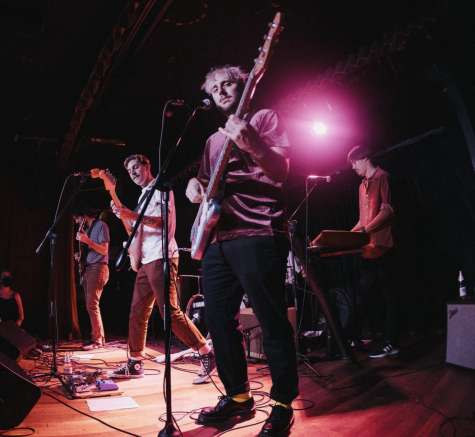 This band was formed in 2015. "It officially formed when Marco (Rivero), our frontman, wrote this song called Taking Up Space. At first, it was just Marco and our ex-drummer and good friend Mando Baeza… but then, as the songs started to catch traction, we needed to fill a stage… and who else should do it if not your best friends?" 
Mustard Service quickly rose in popularity, and for a good reason. They have a very unique sound, referring to their own genre as "Zest Pop" (like their album). Just from listening to a snippet of one of their songs, you can say "Yeah, that's Mustard Service!" Their lyricism is light and playful and overall just extremely enjoyable to listen. When you know a band is having fun creating their tunes, you have a lot more fun listening to them. 
I was able to get some insight on the fifth song on Zest Pop, titled "I'm Sorry I Hit You With My Flip-Flop." This song is one of their slower songs. When I first heard it, I was really curious as to where the idea for this song originated, as it seems to describe an abusive relationship. However, the song simply came to be because of a text message guitarist Gabriel "Nuchi" Marinuchi sent to Rivero. 
"Back when the first album was being written in a basement, Marco and Nuchi would regularly send each other songs and ideas they had come up with and this song is one of those. Nuchi texted Marco four chords for a verse and said "Write a song called 'I'm Sorry I Hit You With My Flip-Flop,' and so Marco did."
This year is going to be exciting for Mustard Service fans as they revealed that the band will be coming out with a handful of singles and an album, and will also be going on a US tour, so keep an eye out for that.
"Don't do drugs, don't play music with your friends, don't have fun, and don't start a band, 'cause this town ain't big enough for the both of us."
"…No, but for real don't do drugs."
Las Nubes was a band I found more recently, and I'm so glad I did. Las Nubes started as a solo project by frontwoman Ale Campos in 2014. Three years later, Campos was invited to open for rock band Shonen Knife. "The thought of playing these vulnerable songs alone terrified me," Campos explained so I said that I'd do it if I could find a band." Thus, she got together with her two friends and formed Las Nubes. Since then, the band has had a few lineup changes (with the exception of their lead vocalist/guitarist and drummer), but as of right now, Las Nubes is Ale Campos on guitar and vox, Emile Milgrim on drums, Nina Souto on guitar and vox, and Gabriel Duque on bass.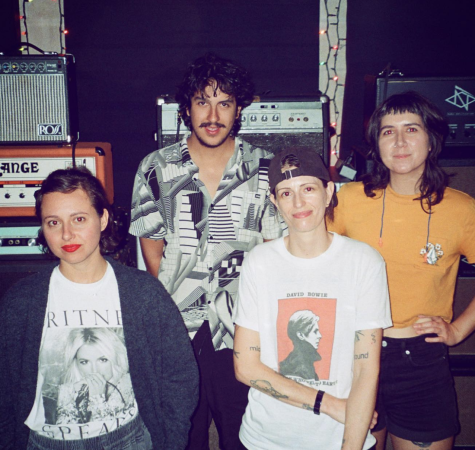 Las Nubes has an addicting sound, described as, "sad girl dream-pop meets doom metal meets 90s alt-rock." The versatility of their music has me going from bawling my eyes out to dancing in my room (which, frankly, is one of my favorite combinations). Their sound manages to be heavy yet soft at the same time, creating a beautiful balance of raw emotion and pure harmony. They have a style of music that seems to be extremely well-loved today, thus making them one of my go-to's when anyone asks me for song suggestions. 
Their most popular song, "Tararear" (meaning to hum in Spanish) is one of Campos' favorite songs to play. "Musically, it's a challenging song, and I love how it came to be," she explained. This song first came to be because of a jam session between Campos and Milgrim. "I played what later became the intro riff (without the lead that follows) along with a simple chord progression and she played a simplified version of what she later wrote on drums. We really liked how it sounded; it kind of reminded us of "Unwound," so we recorded ourselves playing it on our phones." 
As the song began to develop, Campos found that she wasn't too pleased with the lyrics she had written. Thus, she showed her fellow band members what she had come up with and explained the theme she was going for. "So one day after practice we all sat down and I showed everyone what I wrote and explained what the overarching theme was. From there we just started using free word association and then translated everything to Spanish. It was perfect. I think the reason why I love this song so much is that we each contributed pieces of ourselves and it's conveyed perfectly in the song."
One thing that I was absolutely thrilled to find out during my interview with Campos was that she actually graduated from Immaculata-La Salle! She's an alum from the Class of 2009. Currently, Las Nubes is working to produce their second full-length album (release date: TBA) and will be opening for Bikini Kill at the Ground on May 28– It's an all-ages show, so I really recommend stopping by to support one of our amazing alumni.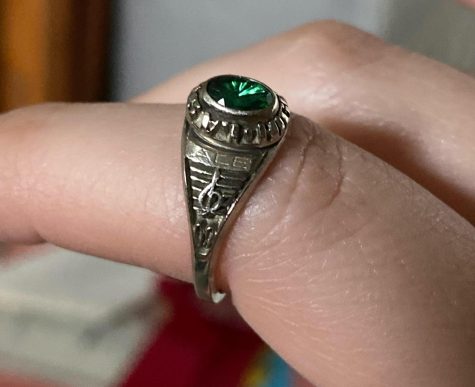 If I'm being completely honest, I first started listening to Soft Cricket because I adored his artist name. However, from the moment I first listened to their self-titled album, I fell in love with his music. Soft Cricket is an alternative/indie solo project Nouredine Garami, which he describes to be, "an amalgamation of psychedelic rock, soft rock, and folk that is so tightly blended together." This project was first formed in 2015 after Garami's first band had ended. "I started writing music to perform for myself and got a group of musicians together to perform them live and it's been continuing ever since," Garami said.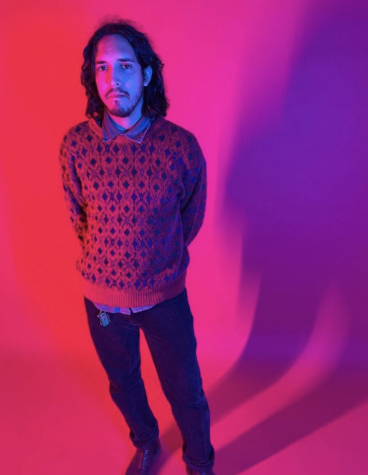 As for what inspires his music, Nouredine Garami explained that his inspirations always change. "Sometimes it's just as simple as creating something to call my own, sometimes it's as complex as the events that are happening in the world around us, and sometimes it's just a bird singing in a tree or the waves of the ocean… All I know is that my medium for expression has consistently always been music."
The first album's creation process dates back to 2017. A myriad of factors prevented the completion of the recording of this album, but thankfully, the album was able to release in 2021… and it's good. There are very few albums that could fully captivate my attention the way this one does, which is surprising, considering Soft Cricket's style of music is not one I find myself listening to often. One thing I especially love about this album is that it sounds so raw and so real. I find that a lot of musicians tend to over-produce their music, but Soft Cricket is not one of those musicians. "The album mostly conveys messages of nature, romance, and politics with very abstract and metaphorical lyrics, which is pretty much my usual writing style and what my songs are usually about."
If that's something you're interested in, go give Soft Cricket a listen.
At the moment, Soft Cricket is working to release a new single along with a music video to accompany it. Said single will be included in an upcoming album completely composed by Garami. You can keep up with his upcoming gigs via his Facebook and Instagram pages.
Glass Orange is one the most criminally underrated artists I have ever listened to. Glass Orange is the work of singer/songwriter Melanie Cruz alongside Nestor Rigaud (lead guitar/backing vocals), Anthony "Ant" Coredor (bass), and Carlos De Armas (drums). Glass Orange came to be after Cruz's previous band had stopped performing. "Glass Orange was the immediate result of not having that outlet," she explained. While it began as a small acoustic solo project, it soon evolved as Cruz began to want to perform with a band once more. "Once the quarantine hit, that also kind of changed the way that Glass Orange did things. I went from being an acoustic-folk-sounding band to being a shoegaze and dream-pop band thanks to Firstworld (Kris Alvarez) who really helped me create that sound." Glass Orange is influenced by other artists such as Crumb, Men I Trust, Beach Fossils, My Bloody Valentine, and The Marias.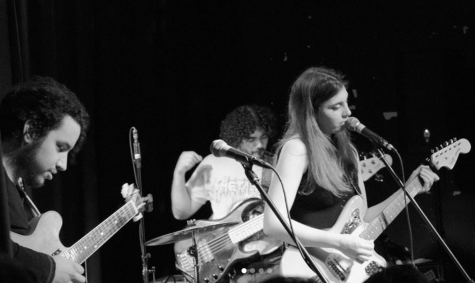 Melanie Cruz was sweet enough to give me some insight on her single, "Feel," which was her first release after the major change in her sound. It truly amazes me that this song isn't mainstream, because it's everything you'd want in a modern song; the fun summery sound blended with the melancholic lyrics is a combination that will always have an undying grip on me. ""Feel" was written right at the start of quarantine," Cruz explained I had just gone through a pretty rough breakup, and being locked in my house without being able to see friends was a really tough thing to try to cope with." She also explained that, around this time, she had purchased her first ukulele and was taking inspiration from English singer/songwriter Dodie Clark. "I had recorded most of ("Feel") and sent it to Kris, who's been a long-time friend of mine, to see what pointers he could give. From there Feel really started to take shape, and he sent me the first draft of what would now be the song you hear on Spotify," she further described. "The song itself is about feeling sad, to put it bluntly, but it was me acknowledging it and wishing that I could just stop it. I hope that people hear this and feel that they're not alone in feeling that way and that it's ok."
Melanie Cruz really has a voice made of pure honey and Glass Orange's sound is so summer-like. With the addition of her melancholy lyricism, Glass Orange has songs you simply can't pass up. There's a possible gig coming up on May 20th at Naomi's Garden, so be sure to stay posted for the official announcement via the Glass Orange social media pages!
Creature Cage formed back in 2017 and is composed of four members: Joshua Soria (vocals/guitar/production), Tristan Grana (guitar), Will Tramm (bass), Nataly Fernandez (synth), and Anthony Capo (drums). Creature Cage is a psychedelic rock band, though they've also been described as "prog, punk, space rock, indie, (and) experimental rock" according to Soria. In my opinion, they've mastered the psychedelic rock genre and it amazes me that they're not more well known. They are really skilled at that heavy sound that's sure to make you want to get up and jump up and down!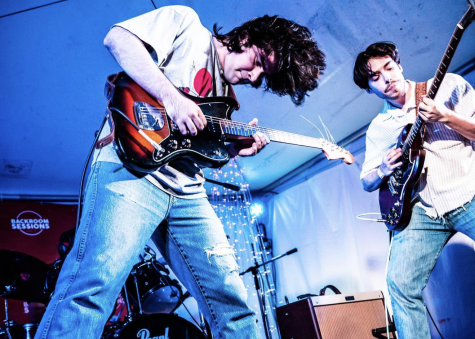 Their most recent album is titled SUPER DESTRUCTIA, and it's incredible. The album revolves around the theme of self-destruction and self-acceptance. When I'm having trouble waking up in the morning, I just play this album while getting ready and it always manages to get me energized. "The topic really landed in my lap after binging Neon Genesis Evangelion, and I already had fragments of most of the songs laying around but that's really what tied them all together," explained Soria. "It was great to finally get it out last year since a lot of those songs had existed since before lockdown and stuff so it was a huge psychological relief to drop it and move on."
A new record by Creature Cage should be coming out later this year. "We've been testing a lot of new material for it live so we're feeling very stoked about it." Be sure to check up on their social media for news and updates. 
"Never be afraid to create. Don't feel like your art has to service anybody; if that ends up happening then sick. But creating for your own heart, mind, and soul first is always key."
Palomino Blond quickly rose to one of my favorite bands of all time as soon as I listened to them. The band was formed in 2017 between Carli Acosta and Kyle Fink (both on guitar and vocals) as a songwriting project. Bassist Peter Allen and drummer Michael Arevalo joined the band later on in 2020. "Peter has described us sounding like scanning through radio stations in the 90s, which I feel is pretty accurate," says Acosta. "Kyle has called us 'shredgaze' and said the phrase 'sometimes sounds evil, sometimes sounds pretty' in regards to our sound which also works pretty well."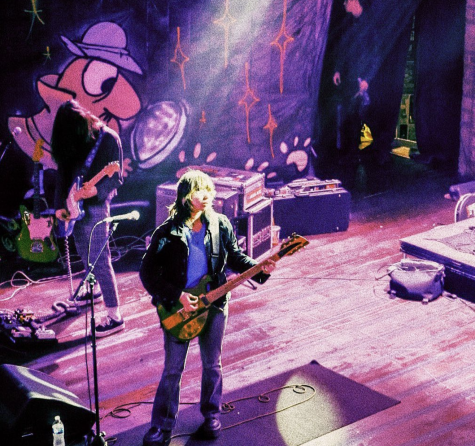 Palomino Blond is inspired by pure feeling, which I think is really beautiful. "The head rush when you first hear a song you love, then looping it and listening over and over…" Acosta fondly describes. "I think the teenage fixation you can have for a band is so special too and stays with you forever, and that's kind of where we're coming from – just wanting to make music we're obsessed with and love." It's clear that Palomino Blond's members put their hearts into their music, and that feeling they're so inspired by is definitely evoked! Just hearing their songs come on when I shuffle my playlist is enough to get me in a good mood.
Palomino Blond's most recent release is their album, "ontheinside". The album was written in 2020 for the most part and was later released in 2021."This is the first time we've been able to put a full body of work out and it's what we've had building inside us for years since starting the band," explains Acosta. Listening to this album for the first time was actually life-changing– It's such a versatile combination of songs, yet they all flow so well with each other. They've got that Palomino Blond edge to them that I so adore. 
Palomino Blond is nothing short of amazing, and if you wish to see them in action, they'll be opening for MAN ON MAN in Miami on April 22!
Swivvel is the only band on this list I've seen live, and from the moment I heard their music I was hooked! Heck, even before that, I had a feeling I'd enjoy their music; while they were setting up for their performance at the youth fair, I asked the frontman if I could follow them on Instagram, and from there I began following them on Spotify. Swivvel is a four-man band composed of Jonathan Solis, Jean Carlo "Doodles" Dominguez, Mark Collins, and Nestor Rigaud (who also worked with Glass Orange and won a Grammy for sound engineering!). The band formed after Solis and Riguad's previous band, Birthday Wish, "was no longer in the sphere of (their) musical vibe." That summer, Solis and Rigaud wrote a myriad of songs and later asked Dominguez and Collins to join them. 
Swivvel's style of music is described by Solis to be "fluidly mechanical." He says "it's supposed to sound a little jazzy and a little wobbly but accompanied by the melodramatics of late 2000's indie/emo rock."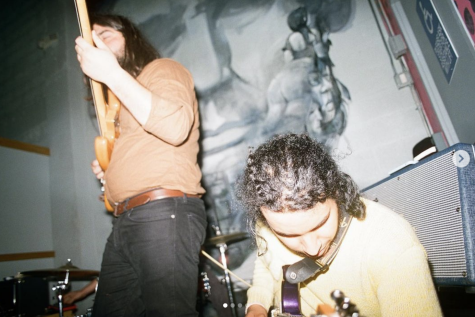 "Contender" was the first single they released in 2021… and this song is catchy. As I'm writing this, this song has been stuck in my head for the past hour or so. It sounds very dreamlike and it's easy to fall in love with. "Writing "Contender" really felt like the moment we became a band. It's the first song we wrote all together," described Solis. "I can't speak for everyone else in the band but I really wanted to keep the song dance-y and spacious. Whenever I listen to "Contender," I picture someone in a hurry to get to their loved one or someone they care about."
Whenever I recommend Swivvel to others, "Contender" is the first song I direct them to. It's fun, it's groovy, and it's pleasing to the ear– What else could you want in a song?
Swivvel will be performing at Beat Culture on May 28th, and it's definetly not a show to miss. They also have an East Coast tour scheduled for late June. Their live performances are what drew me in, and for a good reason. If you have the opportunity to go, I definitely recommend it. They also plan to release a "secret music video" they'll be shooting in the summer, so keep an eye out for that.
The Floridians are an indie-psych rock band that just released their debut EP, Naranja, this year! The Floridians started as a solo project by Ian Renaud, the singer/guitarist for the band. After living in California for three years, actively performing with other bands as a bassist, Renaud decided he wanted to start his own project and begin songwriting. He later recruited his close friends Jake Karner (drums), and Tristan Cata (bass) to join him, beginning to perform together alongside a plethora of artists (such as Soft Cricket's Nouredine Garami) until they eventually found their fourth member, David Gonzalez (synth).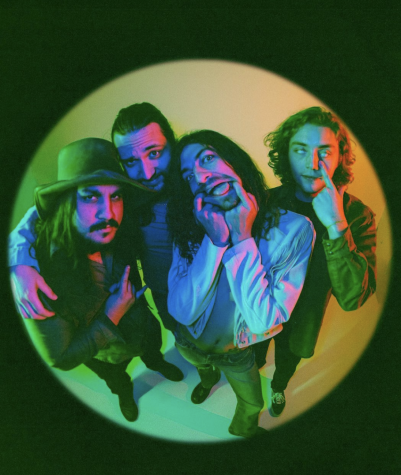 If you're a fan of Tame Impala and Mac DeMarco, the Floridians is the band for you. "The sound of the Floridians is a mixture of psychedelic landscapes over driving bass and drums. The voicing of synth and keys provide a beautiful blanket of melodies while the guitar lays the foundation of texture," poetically described Renaud. The band is greatly inspired by their everyday lives, but Renaud particularly points out that Florida's rain is a source of inspiration for them. 
As said, their debut EP "Naranja," was first recorded when the band was still Renaud's solo project. As the band began to form (going from Floridian to the Floridians), the songs from this EP continued to be played at their performances and would slowly shift in sound until "Naranja" became how it sounds today. "We did everything ourselves," explained Renaud. "We tracked, recorded, and mixed the entire EP ourselves with David our keyboardist wearing the hat of engineer and producer. We then had our friend Brennan Jasso master the tracks."
If you love artists like Vacations, you should definitely check out the Floridians! Everybody loves a good vibe, and the Floridians provide just that. In the next month, expect some new singles from the Floridians. Their first full-length album is currently in the works, due this winter. 
Last, but certainly not least, Bloom Dream is a band composed of five members: Franky Reyes (guitar/vocals), Oscar Rodriguez (guitar), Luis Ledesma (synth), James Whelan (bass), and Dylan Courneyor (drums). Bloom Dream was formed in the middle of quarantine as a method of escapism for its members. Bloom Dream's music is so filled with raw emotion through the instrumentalization alone, making me stop everything I'm doing just to completely focus on their songs (as I'm writing this, "Pale Night Skies" started playing and I had to completely halt the writing of this article just to fully appreciate it). Their older music has a psychedelic shoegaze sound, but as of late, Reyes states, "we've taken a lot of inspiration from noise rock, post-hardcore, post-punk and slowcore bands so I would say the direction of our current sound is heading more towards that kind of a vibe."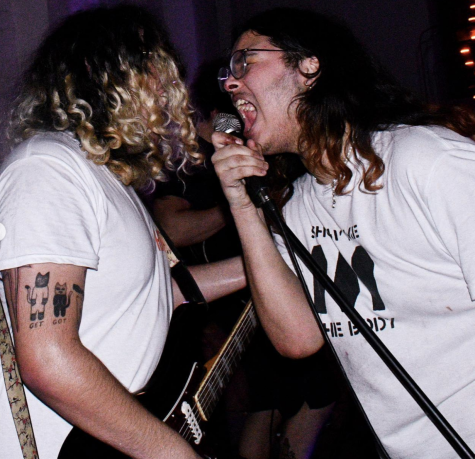 When explaining where the band finds inspiration, Reyes explained that, "a lot of musicians tend to write music as a result of some kind of feeling or event that is personally significant to themselves, and despite that people are still able to connect with it and attach meaning to it in their own lives which is something that really fascinates me. I hope that one day I can write something that can really mean something to someone and have an impact on their life the way it did for me when I wrote the song."
A song Bloom Dream is currently working on is titled "La Haine," after a 1995 short film about three immigrants in Paris following a riot against the police sparked by constant aggression. "The director of the film recently expressed that he made the film as a statement about the injustices he constantly saw in his home country as well as around the world, and it only remains relevant because of the state the world is currently in," explains Reyes. "The song we've written reflects the desperation and anger we feel about the world our generation of people has been left to inherit." 
If you like artists like Deftones, Bloom Dream is definitely the way to go. Their music is unbelievably engaging and their lyricism is unmatched, easily drawing you in no matter who you are. Stay tuned for their upcoming full-length album to be released in May.
—
If you are interested in keeping up with the artists in this article and discovering new ones in our area, I recommend you check out @bandwave.mia on Instagram. She posts frequent updates about the local music scene and promotes upcoming artists.
About the Contributor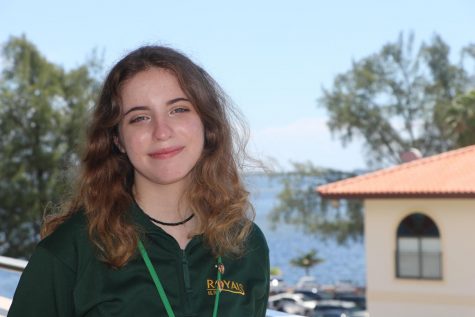 Danna Chalela, Writer
A member of the Drama Club, Danna is also Sophomore President of the SGA.