WeCrashed: The Peak and Downfall of WeWork
From The Dropout to Super Pumped: The Battle for Uber, streaming services have released many series taking an in-depth look into the rise and fall of some of the biggest brands in the world. Well, another one has been added to the list through the streaming service AppleTV+, and it's in the form of WeCrashed, a show starring Jared Leto and Anne Hathaway as Adam and Rebekah Neumann, the narcissistic and wildly in love couple who created the company known as WeWork. In case you don't know, WeWork is "a provider of coworking spaces, including physical and virtual shared spaces, headquartered in New York City." (wework.com). Just with the explanation it sounds pretty simple, but these spaces are out of this world and were made with an important goal: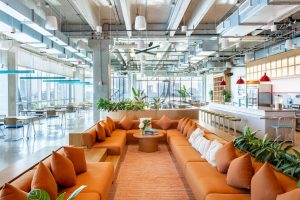 "WeWork was founded in 2010 with the vision to create environments where people and companies come together and do their best work. Since opening our first location in New York City, we've grown into a global workplace provider committed to delivering flexible solutions, inspiring, safety-focused spaces, and unmatched community experiences. Today, we're constantly reimagining how the workplace can help everyone, from freelancers to Fortune 500s, be more motivated, productive, and happy—because that's how tomorrow works." as stated in WeWork's vision statement found on their official website wework.com.
Personally, I found out about this company through my mom when she signed up with a paid membership to have her own office space which unfortunately had to be shut down since a little thing called COVID changed the world. But when we saw that the backstory of this company had been released as a series, we were incredibly curious. Let me tell you…the Neumanns were eccentric in the best and worst way possible.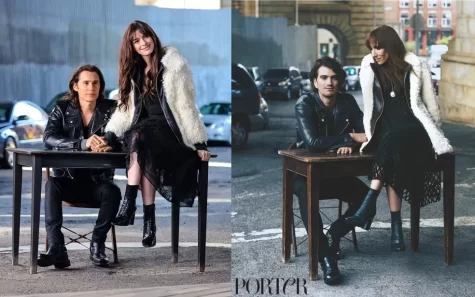 Throughout this eight-episode series, we are introduced to Adam Neuman, "an Israeli serial entrepreneur-turned-WeWork's messianic former CEO" and his guru wife, Rebekah Neumann aka the former chief branding officer and "soul" of WeWork. Adam was not the first to create a co-working space, but he was the first to make it a lifestyle. The former CEO continuously made it clear he didn't just want more office spaces, his mission was to "elevate the world's consciousness"; a motto his wife created and later on made emblematic of the company.
"
"We are here in order to change the world.""
— Adam Neumann, former CEO of WeWork
It's honestly remarkable how much they were able to achieve like creating coworking spaces in 111 cities across 29 counties and helping the company reach a value of $47 billion. They even began to expand into different projects like a school, apartments, gyms, etc. "We are here in order to change the world," Neumann told TIME in 2017. 
Unfortunately, as told by a former WeWork employee to Vanity Fair in 2019, Adam was a great salesman but went through money like water. From luxurious parties to questionable business decisions, Adam single-handedly brought on his own company's demise making the company lose $40 billion in value. 
How? Well, that's something for you to find out and discover throughout the series. It just makes you realize how important it is to know when to be ambitious and gamble as well as when to stop and do what's best for your company…if you ever decide to create one. Check out the trailer down below!
YouTube