Putting the "A" in STEAM
A focus on science, technology, engineering, and mathematics blossomed in recent years leading to the creation of the STEM acronym and a push for these subjects to be taught thoroughly at the primary as well as high school level. As society has become increasingly reliant on technology and its integration in everyday life, the incentive for this drive originated mostly from a field of employment that requires more qualified employees who have an understanding of these topics. However, in more recent years, a new letter has been added to the STEM acronym: an A, representing the arts. This letter was added to emphasize the need for the fine arts in education highlighting how important it is for students to use creativity as a means to develop their young minds.
The implementation of this letter has sparked controversy. Many argue that STEM was created to emphasize subjects that don't surround humanities and that it should stay the way it is. Meanwhile, others argue that STEAM is a more well-rounded acronym, crucial to underscore the importance of the arts.
Immaculata-La Salle High School is most well known for its expanding STEAM program and its implementation of the A. ILS offers a digital arts course in its certified STEAM program, specializing in educating students on aspects such as graphic design, television production, and illustration. The STE(A)M program at ILS emphasizes how STEM ties into art, focusing on how students can to use technology to express themselves creatively.
Ms. Elena Capablanca is the STEAM Digital Arts Focus Coordinator here at ILS. She teaches graphic design, animation, and digital photography. She is typically responsible for designing and producing ILS's publications. It's safe to say Ms. Capablanca has a huge role in the arts community at Immaculata-La Salle.
"
The Digital Arts focus provides exposure to various career skills related to film, television production, and print art. (…) Coursework in this focus enhances student competency in technology, mechanics, creativity, and artistry to build a college ready portfolio. "
— via ILS Website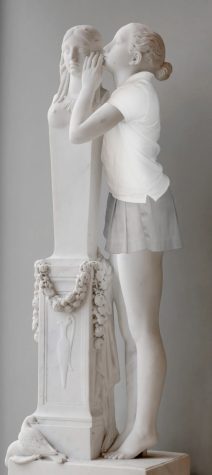 One of the classes she teaches is the freshman STE(A)M course which specializes in graphic design using Photoshop. As the first year in the four-year-long STEAM elective, this course serves as an introduction to graphic design and digital arts as a whole. It teaches students things as small as tweaking an image to getting rid of blemishes to things as large-scale as creating movie posters or restoring worn-down images. The most recent assignment given to students in the digital arts course of the STE(A)M program involves taking images of statues and dressing them in modern clothing.
Typically, the STEAM program is one students can apply to before their first year as a freshman at ILS. However, contrary to popular belief, it is possible to join the STE(A)M course in later years.
"I've had a few cases where students have taken the regular graphics elective and the teacher recommends them to the program," Capablanca explained. "It could happen!"
If you happen to be interested in the digital arts focus of the STEAM course, but didn't get the chance to apply before your freshman year, ILS also offers the regular graphics elective (as previously mentioned), digital photography, studio art, and 3D art animation.
About the Contributor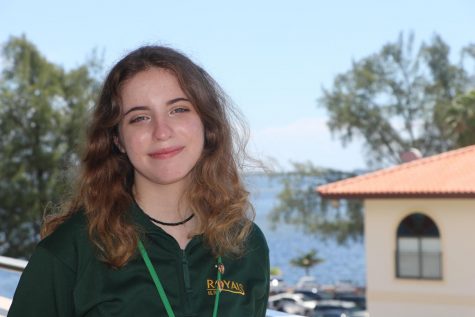 Danna Chalela, Writer
A member of the Drama Club, Danna is also Sophomore President of the SGA.