ILS Sailing Team takes to the seas again as junior Antonio Miranda qualifies for Nationals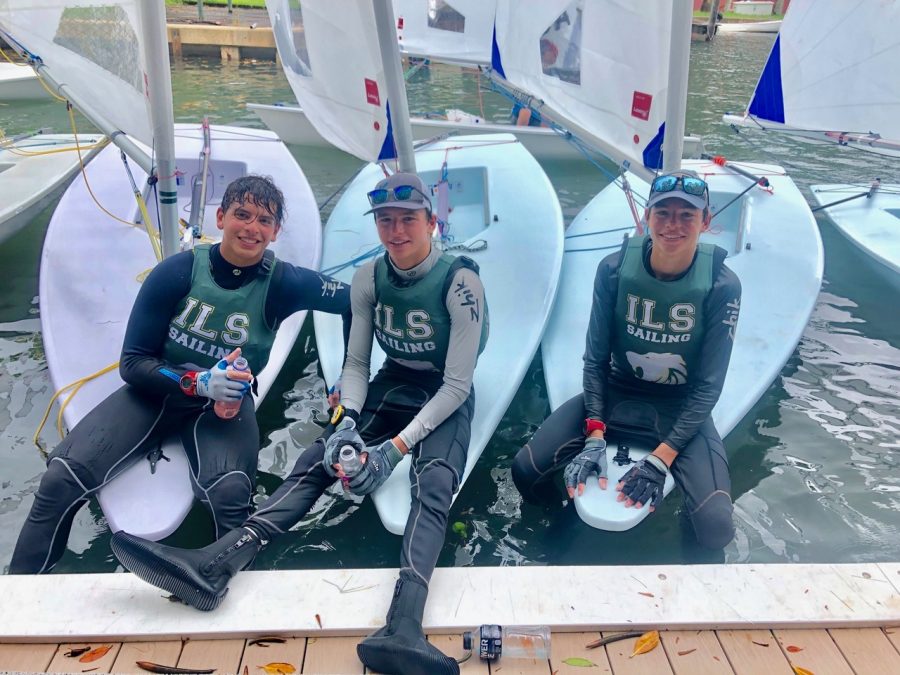 Last Saturday, September 21st, the ILS sailing team competed in the 2019 SAISA Singlehanded District Championships, and junior Antonio Miranda finished third overall in the full-rig division, earning a spot at the National Championships in November.
Skippers faced difficult conditions, including whiteout rainstorms and gusts up to 25 knots. Despite the rain, races were held throughout the day as teams angled for a spot at the 2019 ISSA Cressy Singlehanded National Championship Regatta.
The ILS Sailing Team competes in the South Atlantic district of the Interscholastic Sailing Association. The district includes teams from Florida, Georgia, South Carolina, North Carolina, Tennessee, northern Alabama, and the Caribbean. The singlehanded district championships consisted of 15 races spread over two days.
ILS junior Antonio Miranda finished third overall out of 11 in the full-rig fleet division, earning a spot in at Nationals.
Sophomores Justin Callahan and Mitchell Callahan competed in the Radial races. Justin finished sixth and Mitchell finished 14th out of 46 teams in the Radial qualifiers.
Miranda was worried about his performance heading into the regatta because of limited practice time with the boat.
"Although this fact hindered my performance greatly I knew that I could sail the boat faster than all my opponents," Miranda explained. "During the regatta my goal wasn't to win every race but to get top three, which is what I did.
"I kept in my head that as long as I didn't make an error such as capsizing, which would make me lose many boats, I would be able to achieve the top three spot which will secure my position at nationals."
Miranda's performance has earned him a spot to compete for the National Championship in Santa Barbara, California, this coming November.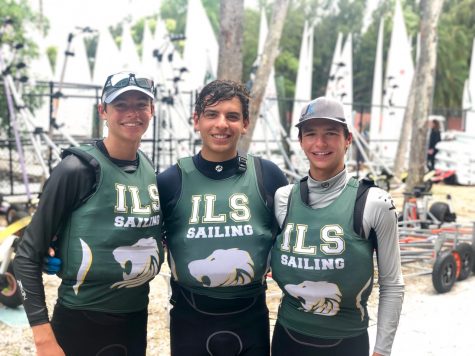 Justin and Mitchell Callahan also represented ILS very well at the district championships last weekend.
"The last regatta was a boat Mitchell and I have never sailed before," Justin said. "We finished sixth and 14th and almost qualified for singlehanded nationals. We are happy for Antonio who finished third in his division to represent La Salle at singlehanded nationals."
In only its second year, the ILS sailing team continues to excel and establish itself as a national championship contender.
"We [have] made a huge name for ourselves in the sailing community," Miranda said. "Our goal this year is to get top three at nationals. I believe that this goal is more than obtainable, and with all the hard work, dedication, and talent that we have, our team will soon be the best in the nation."
Justin Callahan echoed Miranda's sentiments.
"We are very excited to be going into our second year as a team," Justin said. "After finishing fourth at nationals last year, we are hoping to win this year. We are practicing hard and are thankful for the opportunities the school has given us. The team learned a lot last year and are hoping to achieve better results this year."
The team is coached by Lior Lavie this season. Lavie is director of sailing at the Coral Reef Yacht Club and has been associated with the US National sailing team since 2013.
"Head coach Lior Lavie and the sailing team have done an amazing job in just their second year!" said ILS Athletic Director Nick Fernandez.
Antonio Miranda will compete for the singlehanded National Championship on November 1 and 2nd in Santa Barbara, CA. The ILS sailing team will compete again as a whole at the Seven Points Regatta in Hollywood, FL, on September 28th.