Safety on Set: A Tragic Accident
During the filming of the movie Rust, Mr. Alec Baldwin shot off a prop gun that was mistakenly loaded with a live round. On October 21, Santa Fe PD received a 911 call, stating that two people had been shot. Ms. Halyna Hutchins, 42, was fatally shot in the chest while Mr. Joel Souza, 48, was seriously wounded.
"I found out via the Twitter trending page. I was really shocked and taken aback at the situation. As someone who is a huge fan of backstage management and such, it boggles my mind how something like that could've happened," said an anonymous sophomore.
Halyna Hutchins was the film's cinematographer. At the time of the shooting, she was near Mr. Baldwin, on the side of the camera. She has a young son and husband, Matthew Hutchins. 
The director, Joel Souza, described the noise of the gunshot as a "whip and then a loud pop".
"
"Baldwin will have to live with this for the rest of his life, and the other person who was shot will have to recover physically and mentally from being shot.""
— Teacher Ms. Izabella Orelle
Just hours before the shooting, several members of the film's crew walked off of the set in protest of their working conditions. They are said to be frustrated with the fact that it was a low-budget film, overly long working hours, and waiting for their paychecks. According to sources familiar with the film set, safety protocols were not being properly followed. They claim that a camera operator complained about gun safety days before the incident. 
Two crew members told the Los Angeles Times that Baldwin's stunt double accidentally shot a live round twice, after being told that the gun was not loaded. This happened days before Hutchins's death, and is almost the exact same situation that happened on the 21st. No one was hurt.
"I feel horrible for Baldwin because he put his trust in the crew and then he killed someone. Especially since he was strongly against guns," said sophomore Maria Cadenas.
This poses the question: How did this even happen?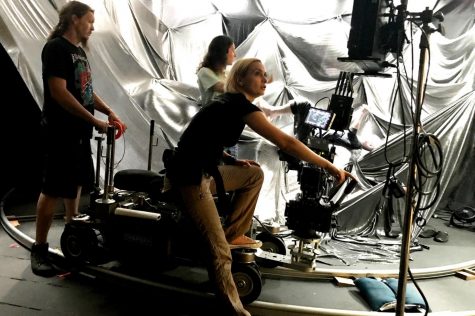 In most movie sets, real ammunition is prohibited. Also, there are typically several people who are in charge of both safety on set and the efficacy of props being used in a scene, especially with a gun. A common misconception is that prop guns are fake and contain no ammunition. Nonetheless, many movie sets have real guns, but with "blanks" meaning they are a gun cartridge that contains gunpowder but no bullet. If used incorrectly, though, they can potentially injure or even kill someone. 
"I think whoever was behind managing props is to blame because no gun should be loaded and ready to fire on the set of a movie,"said sophomore Sofia Iovine.
On most movie sets, a weapons master or armorer is in charge of gun props. They are required to be present when the gun is used. Also, a prop master is generally in charge of overseeing all props on a set, but not specifically for dangerous items. 
The Actors' Equity Association's guidelines state that, "Before each use, make sure the gun has been test-fired off stage and then ask to test fire it yourself. Watch the prop master check the cylinders and barrel to be sure no foreign object or dummy bullet has become lodged inside. All loading of firearms must be done by the property master, armorer or experienced persons working under their direct supervision."
However, there were some misunderstandings between those in charge of safety and props which led to the incident happening.
"I don't even blame the armory because they were told that it was a 'cold gun,' meaning unloaded, and they should never have to question the validity of what the prop master says. There should be total trust, and she violated that trust. As a result, a young woman died and another was seriously injured," said theater teacher Ms. Izabella Orelle. 
There is now an ongoing investigation into what happened on that day. The armorer for Rust is Ms. Hannah Gutierrez Reed, 24. She has not commented on the situation. 
Mr. Baldwin has been subject to intense paparazzi and questioning. Recently, he has spoken out indicating that due to the investigation, he cannot speak about much publicly. He said that he "talks to the cops everyday," and is also in touch with Hutchins's family. 
Baldwin and his wife, Hilaria, became aggravated when reporters apparently forgot what Hutchins's name was. 
"He's being swarmed with unwanted attention and being harassed with invasive and inappropriate questions. i can't imagine how guilty he must feel,", said an anonymous sophomore.