Swim Regionals: #1 In Our Hearts
Friday, October 29th was a big day for the ILS swim team. While many students were inside the gym, celebrating Green and Gold Day, some of the team was over at Nova Southeastern competing. This year, they qualified for regionals, a huge accomplishment for the team! All their practice this year has clearly paid off.
Being part of a team like swimming takes hard work, responsibility, and dedication. All the members who attended the regional competition knew this, and decided to give it their all, even if they didn't take home first place.
That being said, it doesn't mean the team didn't struggle at all.
"One of the biggest challenges I faced this season was definitely balancing my time between being attentive to my duties to the team as well as all my other responsibilities," said team member and senior Catalina Lujan.
"It was definitely a very busy time of the year for me, but I made it work by sacrificing lots of my free time so I could put in 100% effort into the team while balancing HOCO prep and college applications," she concluded.
Lujan and her sister, junior Juliana Lujan, are both dedicated swim team members. For Juliana, "being at regionals was cool." She added also that the place they competed at was hospitable and "comfortable."
Catalina, as a senior, was a bit sad to miss her last Green and Gold Day pep rally for regionals, but she knew her duty to the team and, "didn't want to let down (her) teammates by not going."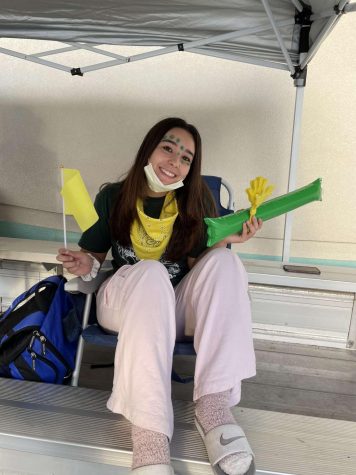 In the actual relay portion of the event, the Lujan's team, consisting of themselves, along with Eliza Chandler and Rachel Larralde, placed last. Although they find the outcome less than desirable, as it wasn't enough to qualify for states, they are proud of the effort.
One member, Pablo Lopez Franco, was able to make it to States! "I'm very proud of his hard work and the time he has putting in swimming," Juliana commented.
Catalina gave it her all for her last season. For her, she can look back on this season proudly, knowing that she was able to bond and reconnect with her teammates.
"After last year's season, where we only swam at one meet due to COVID, it was nice to have a regular season again where we could all swim together at meets again," she admitted.
"I think some of us have had our good times and our not so good times this season," Juliana mused. "The best part of the experience of going to regionals was pretty much observing on what we had to improve on. I think for me it was a lesson to learn…" she concluded. As a junior, Juliana will have the chance to compete again.
She actually has been helping out a lot on the team, and wants to continue doing so as co-captain in the future. "I tried helping my coach keeping things organized and helping out my teammates. This season was a little bit turbulent, and I am hoping that next year will be better in terms of time management and organization." She is sure her leadership will benefit the team.
So, while haters may not see this as a "win", anyone can see that the swim team dedicated and applied themselves this year. Their hard work has been acknowledged by their family here at ILS.