Halloweek 2021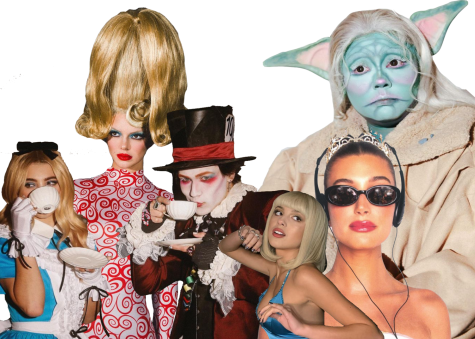 Halloween is the one day of the year when you could be anyone or anything you want to be. It seems like celebrities didn't think one day of the year was enough. "Halloweek" is a full out production for those in the limelight. 
Crazy makeup looks, like Lizzo's Yoda costume, are a must for at least one of the five costumes a celebrity wore on this week of dress up. 
"I thought Lizzo's Yoda costume was so funny. It was super impressive." said senior Emiliana Antelo.
Most celebrities tap into their cultural knowledge to get a reaction out of people. Tim Burton's Mars Attacks was the inspiration for model Kendall Jenner's costume. Her Martian Girl look was as uncanny as the 1996 costume worn in the original movie. Hailey Bieber dressed up as Mia Thermopolis from The Princess Diaries which got a great reaction from those who grew up with the early 2000s movies.
"I thought Hailey Bieber's costume was so cool. It brought back so many memories." said sophomore Clarissa Ponte.
Couples costumes have always been in vogue. This year there were two in particular that seemed to get people excited. Former couple Charli D'Amelio and Chase Hudson had a duology of couple costumes. Both Tim Burton movie inspired costumes, Jack and Sally from The Nightmare Before Christmas and second, Alice and the Mad Hatter from Alice in Wonderland.
"I loved Charli and Chase's Alice and Mad Hatter costumes. They took a basic costume and made it so much better." said senior Clementia Daboin.