The Turkey is Tasting Different in 2021
Well, that time of the year has come around again where we gather with our family and say what we are thankful for…although, honestly, most of us show up for the grand feast of turkey, stuffing, sweet potatoes, cranberry sauce, and so on and so forth. Yet, this year we have a new appreciation for it after Thanksgiving 2020.
During the festivities last year, we were still far away from accessing the vaccine as COVID-19 cases kept fluctuating intermittently. Public health officials' were warning us that large celebrations could increase the out-of-control virus, yet everyone made their choice on how to spend it with an increase in travel, gatherings, and company. Some took health measurements; others didn't, but the majority were aiming to meet with their families once again after months of being separated. Although statistically there was no dramatic increase in cases and deaths, it did grow gradually as the holidays continued on. Unfortunately, the vaccine did not come in time to save us from the super-contagious delta variant, breakthrough infections, and a few more months of cases.
Let's get back to the present. Today, public health officials have stayed off from delegating any instructions for the holidays since they are still eyeing the number of cases going around so we do not see another repetition from last year. For now, they are leaving it up to us and our risk tolerance so we can celebrate the holidays safely. 
In comparison to November 2020's instructions, "The safest gathering is one that is a small, stable group that meets outdoors for a short duration and uses face coverings, distance and other safety measures," according to California Bay Area health officials, we have moved onto different directions: 
 "It's kind of an individual choice about your risk tolerance," Santa Clara County Health Officer Dr. Sara Cody said. "We're sort of moving away from mandates and telling people exactly what they have to do and how they have to do it. We're almost two years into this, right?…and just reminding you that you've got these five layers: vaccination, testing, masking, ventilation and distancing. You can kind of toggle them back and forth, depending on your risk tolerance and the situation."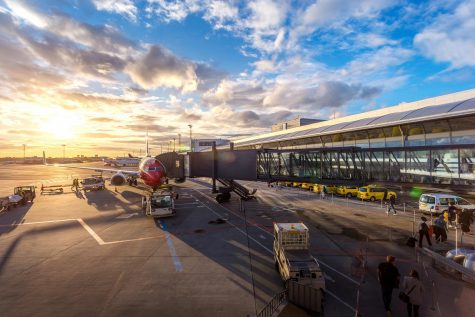 So finally, for our international families, is it safe to fly? Dr. Bob Wachter, chair of the medical department at UC San Francisco said, "It doesn't seem that air travel is a dominant mode of transmission, in part because everyone is masked for the bulk of the flight, and airlines have as good an indoor ventilation system as any place you go into."
So, there you have it folks. Go and gather with your loved ones as long as you make use of the protection we were wishing to have back in 2020 with vaccines and masks to minimize the threat. Enjoy your Thanksgiving feast!