"& Miles to Go Before I Go to Sleep…"
There are lots of things ILS students don't know about their campus, and one of those things includes the wild forest behind the retreat center.
Ms. Cristina Ramirez, an English and Journalism teacher here at Immaculata La-Salle High School, likes to get more hands-on when it comes to her method of educating. She likes seeing her students interact with the world around them in order to get a greater grasp of a concept or idea she's trying to get across. Thus, recently taken her classes into the woods. The goal is to get students to use their senses– sight, hearing, smell, taste and touch– to make observations of the world around them. Once they formed their observations, the students would be using them to create their own nature-inspired metaphorical poetry.
"We're gonna go in there and I'm going to give them a thought experiment," Ms. Ramirez explains, as she trucks through the rugged ground below her. Despite the struggle, she keeps a determined smile on her face. "Then, the students are going to go out and do their own individual explorations. (…) Then, when we go back to class, they have to upload their information to the Showbie folder. Then, for the next class, we're gonna take their observations and turn it into an actual poem."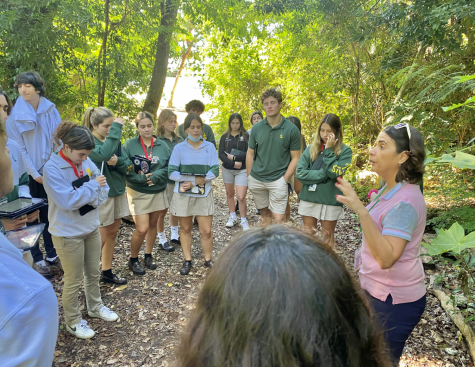 As the class hiked along the trail, Ms. Ramirez led them to an open space: beautiful, overgrown trees frame the area. Pieces of ancient limestone are exposed on the ground the students walk upon. While the air is suffocatingly hot and humid, the pure environment makes it easier to bear. Once the students stopped in their tracks to listen to Ms. Ramirez speak, the first thing she told the class to do to begin their thought experiment was to close their eyes.
"I want you to take a deep breath… and exhale."
Then, she recited an excerpt from a famous piece of poetry:
"
The woods are lovely, dark and deep, But I have promises to keep, And miles to go before I sleep, And miles to go before I sleep."
— Robert Frost
That quote is from Robert Frost's Stopping by Woods on a Snowy Evening, a poem that serves as a perfect example of what the students in her class were expected to do for this assignment.
"(In this poem, Frost) is not talking about the woods. He's talking about his responsibilities, obligations, and death." Ms. Ramirez emphasizes, going on to explain the metaphors hidden within the excerpt. "That's the type of poem you're going to write today. You're going to use nature, but it's going to be a metaphor for something entirely different."
When walking along the trail, Ms. Ramirez enlightened her students with the story behind these woods;
Before, this entire forest area was not the property of ILS. It belonged to Viscaya. The archdiocese later bought this land from the Deering Estate, thus becoming ILS property. In the early 60s, there was a program in Cuba called Operation Pedro Pan, created so Cuban families could send their children to the United States in fear that they would be indoctrinated into communism if they behind. Many of those children ended up studying at ILS.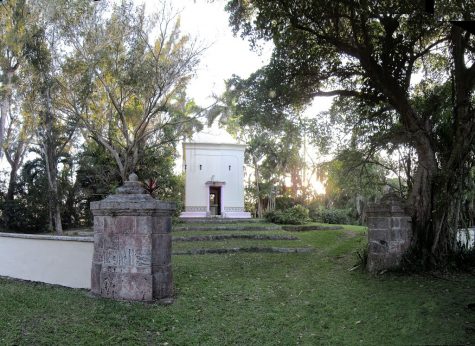 During his senior year, the father of ILS's very own building and facilities manager, Mr. Gaston Arellano, who himself an alum, received an unusual request. A priest approached him and his peers regarding a very grave issue;  One of the freshman had run away from home, had apparently donned the vestments similar to Tarzan, and was now suspected to be living amidst the ILS. They knew he was armed with a bow and arrow, thus making finding this freshman possibly dangerous. Thus, the priest asked for the students' cooperation in helping to find him.  When students went into the forest, they discovered the Moon Temple, which still stands on the grounds today, made visible by their discovery.
The missing freshman was found. Thankfully, he was unharmed. What happened to him after he is unknown to this day. It really goes to show that there's a lot of history behind the campus ILS where students carelessly roam around and things they may never find out. That is why Ms. Ramirez encourages her students to forever remain curious.