I Have a Dream: Historic View Into MLK
Only a few days back, MLK day came around and with that we were reminded that almost  two years ago, for a long time all that would be on the news, paper, social media, and more was Black Lives Matter, but the question is, what does this really mean or better yet, where did it start?
Other than a hashtag or a trending movement, African pride and freedom transcended from the words of Martin Luther King Jr. He was known for his dream where Americans could live side by side with POC (people of color) and humanity could be united at last. 
All over the world a little while back, people were on the streets in support of the Black Lives Matter movement. Thousands  of people in hundreds of cites marched  in support of the concept of being and deserving equality. One can't help but ponder what Martin Luther King Jr would've  thought about it. How close could we be considered to his dream of children being judged by the content of their character rather than the color of their skin?
Today, Martin  Luther King Jr is praised as a hero of civil rights. He has streets, days, and even schools named after him all over the US.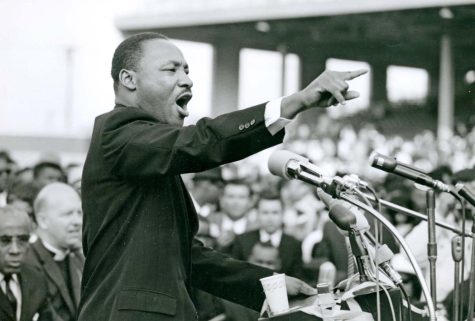 MLK was born January 15, 1929, and died April 4, 1968. He was born to the name  Michael Luther King, Jr. but grew to change his name to Martin. MLK attended segregated public schools in Georgia, where he graduated from high school at the age of fifteen. He later received a degree from Morehouse College, a distinguished institution in Atlanta from which he was a legacy thanks to both his father and grandfather.
 In Boston he met and married Coretta Scott, with whom he bore two sons and two daughters.
Later in his life, he became  pastor of the Dexter Avenue Baptist Church in Alabama. From day one, a strong worker for civil rights for members of his race, King was a member of the National Association for the Advancement of Colored People, the strongest  organization of its kind in the nation. By then, he was ready to accept the leadership of the first great black, nonviolent demonstration. The boycott lasted 382 days.

"
I have a dream that one day this nation will rise up and live out the true meaning of its creed. We hold these truths to be self-evident that all men are created equal… they will not be judged by the color of their skin but by their character. I have a dream today."
— Martin Luther King Jr
It started with buses, and the seating arrangement, of course including the famous Rosa Parks. In 1956, the Supreme Court declared segregation  unconstitutional and started  requiring all races to ride the buses as equals. During these days of boycott, MLK was arrested, his home was bombed, he was subjected to personal abuse, and more. However, he drastically emerged as a leader. Everyone around the world knew Martin Luther King Jr . 
Over the years, he led a massive protests that caught the world's attention. Most importantly, he directed the peaceful march of Washington, D.C., where 250,000 people attentively head him delivered his address, "l Have a Dream". One of the most impactful speeches in history, holding hands with the Gettysburg address. 
At the age of 35, Martin Luther King, Jr., was the youngest man to have received the Nobel Peace Prize. When notified of his selection, he announced that he would turn over the prize money of $54,123 to the journey and future of the civil rights movement he began all those years back.
MLK  stood multiple times in front of numerous crowds, held the mic and declared his dream, his vision, and his purpose of life. Many say, he died a completed man because even though his death was sudden, his fight lasted forever. He was a man of pride, respect and strength. He had the soul of a fighter and truly lives eternally through his memory.