Tick, Tick… Boom!: Honoring Jonathan Larson
As you may or may not have seen on your Netflix homepage, hit musical Tick, Tick… Boom! was adapted into a film featuring stars such as Andrew Garfield and Vanessa Hudgens. The 2021 film adaptation was directed by renowned songwriter and playwright Lin-Manuel Miranda.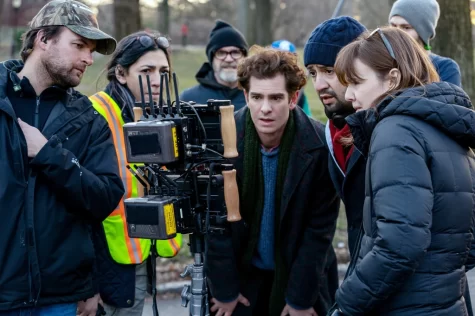 The musical revolves around the life of Jonathan Larson, who would've turned 62 years old last week. Larson was a playwright and composer most well-known for writing musicals such as Rent. Tick, Tick… Boom!, also written by Larson, tells the story of his life in the nineties as he was writing Superbia, a show that never made it to the stage. This musical portrays the bohemian life of a struggling artist during a time when getting his work seen felt impossible and pure passion was the one thing that kept him going. Larson struggled to establish himself in the theatre industry and spent years trying to create a show that would get him recognized which is exactly what Tick, Tick… Boom! is all about.
"The movie made me laugh, get angry, and cry," said junior Mercy Cabrera. "It was a ten out of ten."
Tick, Tick… Boom! originally began as a solo piece performed by Jonathan Larson in 1990, originally titled 30/90 and later Boho Days. Jonathan Larson later died in 1996, the night before the premiere of Rent (which later was established as a Broadway classic and the winner of eight Tony Awards). Playwright David Auburn then went on to revise Tick, Tick… Boom! as a three-actor performance in honor of Larson, which premiered five years later off-Broadway. The show received traction, going on to have a US tour, a West-End production, two off-Broadway revivals, and countless local/international productions.
The film adaptation, released in December of 2021, showed Tick, Tick… Boom! in a way that was never seen before. It all started in 2014 when producer Julie Oh saw Lin-Manuel Miranda play Jon in Encores! Off-Center's Tick, Tick… Boom! alongside Karen "Ko" Olivo and Leslie Odom Jr.. After Julie Oh read an article by Lin-Manuel Miranda about the impact Tick, Tick… Boom! and Jonathan Larson had on him, she was inspired and felt that a film adaptation was important to have. That being said, Oh reached out to the Larson estate. However, they were hesitant to give the rights for a film adaptation in fear of Jonathan Larson's story not being done justice. Thus, Julie Oh concluded that the only person who could bring justice to this beautiful story was Lin-Manuel Miranda himself. The film was then announced in 2018 with Lin-Manuel Miranda as the director, Imagine Entertainment and Julie Oh producing, and Steven Levenson handling the script.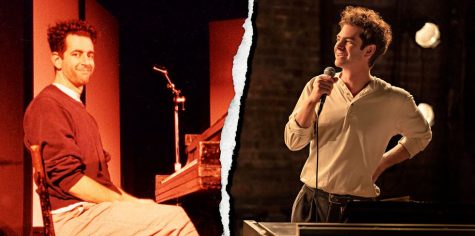 "I was a little reluctant to see it since it is a biography of someone I didn't know," said senior Melanie Scheel. "I didn't know anything about (Larson), I didn't know he wrote Rent or anything, but as I finished watching it, I told my mom 'You need to watch it' and I watched it again the next day. (….) It felt very humane and so well produced. I also didn't know Garfield had that singing and dancing skill in him and it really showed me a whole new side."
Andrew Garfield, who plays the leading role of Jon in the film, came into the mix shortly after finishing his run in Angels in America on Broadway. Before Tick, Tick… Boom!, Garfield had little to no musical training, thus he had to begin vocal training and piano lessons for his role. "I put in the hours, on the breathing, working on my range," said Garfield, regarding his experience. Upon meeting director Lin-Manuel Miranda, they immediately clicked. Miranda saw the best in Garfield and knew he'd be the perfect actor for Jon, thus guiding him alongside the whole process. Working alongside many well-known musical theatre actors, Garfield worried he'd be the weakest link amongst his cast-mates. "Am I letting the side down?" he'd ask himself.  "The last thing I want to be is the slow coach at the back of the pack. That's the nightmare." Nonetheless, Andrew Garfield has been praised by critics for his acting and vocals alike.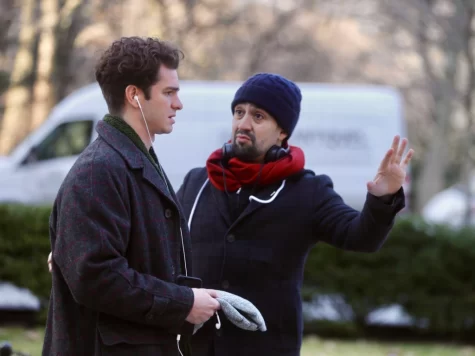 "(The film) was very good, I really liked it!" said sophomore Sebastian Debora. "My favorite song is Therapy."
Already the winner of six awards, Tick, Tick… Boom! was a huge success, despite the setbacks it had. Gaining traction from adorers of the original musical and newcomers alike, it's a tragic yet inspiring tale that's easy to fall in love with. Not to mention the incredibly well-written score that has risen in popularity, especially on social media platforms such as Tiktok, where Therapy recently became a trend.
It's a beautiful tribute to Jonathan Larson which everybody should give a chance.  Being a theatre kid, I watched it as soon as it came out and I cried for hours after watching. It's very rare to see well-made film adaptations of stage-plays nowadays so Tick, Tick… Boom! was very refreshing. It's clear why it was declared one of the greatest movies of 2021 by the American Film Institute. It's the perfect combination of heart-wrenching, inspiring, and comedic. It's everything Jonathan Larson would've wanted in a film about him. I think it's definitely worth the watch, whether you're a fan of musicals or not. Larson explored many themes in his shows that were very uncommon at the time and ended up paving the way for hundreds of Broadway shows to come. His story is not one to be forgotten.