A Sprinkle of SALTT in Our Lives: Remy Lemaire
SALTT Club is one of the most popular service organizations on our ILS campus. The acronym itself, S.A.L.T.T, stands for Service and Leadership for Today and Tomorrow. 
Most students aren't aware of the club's official name, simply calling it SALTT. But learning what the acronym stands for sheds a whole new light on the experience. 
There are a few students who truly understand the importance and uniqueness of the SALTT experience. One of these students happens to be Remy Lemaire, a current senior at ILS.
Lemaire found her way into SALTT Club her freshman year. "I always saw all of the upperclassmen wearing SALTT merch, and at that time I was joining as many clubs as possible. SALTT just happened to be the one that resonated with me the most,' she stated.
In the beginning, the field trips made a big impact on Lemaire. Being able to be there and carry out the mission in such a personal way is what grabbed at her heart the most.
"My favorite part of SALTT is definitely getting to work with the kids hands on. I love going on field trips and being a part of all of the special events we do with the kids," said Lemaire. 
Unfortunately, because of the pandemic, it has been hard for Lemaire and various students to keep that special bond with the club and the migrant children. The quarantine and numerous regulations that were put in place meant that the ILS students who had looked to this club as an important part of their lives couldn't see the children they were working so hard to help. It hit hard for Lemaire because, "trying to find ways to still interact and provide for the kids during the peak of the pandemic, while keeping everyone's safety a top priority, was really challenging."
Nevertheless, even with the challenges of the pandemic, Lemaire has found her own motivation for staying so close to SALTT. She believes that, "being able to make such a difference in these kids' lives is such an incredible experience."
So, how has SALTT changed Remy Lemaire's life?
"SALTT has made me recognize just how much of an impact I can have on others. It has shown me what it means to help others in a way that is filled with kindness and love," said Lemaire.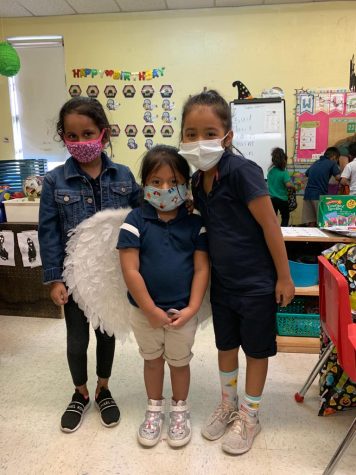 The impact of the club is why many of La Salle's students join. It is one that cannot be replicated anywhere else, one that is unlike any other. The bond that is created between the student and the migrant child is one that can last for all four years, where the two can watch each other grow up and become better people together.