Brianna Ross Sails Away to Brown University
Let's give a congrats to Brown University's new student, senior Brianna Ross!
Ross received a recruitment offer from the Brown Sailing coach in mid-July due to her sailing results over the past four years. Also considering her grades and extracurricular activities, the Brown coach reached out to her and asked her to be a part of the Brown Sailing team in the fall.
"Getting accepted was a great feeling, but it didn't necessarily hit me until a few weeks later. I had known I was getting in since I received my 'Likely Letter' in October, but it didn't feel real until after I received my official acceptance. After a few weeks of shock and receiving congratulations, it hit me and I felt very accomplished and excited for what was to come," recalled Ross.

"My friends and family were extremely proud of me and shared their joy with me. It was an overwhelming feeling, but a good one," added Ross.
Ross celebrated by going out to dinner with friends to celebrate her acceptance, and her family did a special celebration at home. She also celebrated with more of her classmates through her signing day.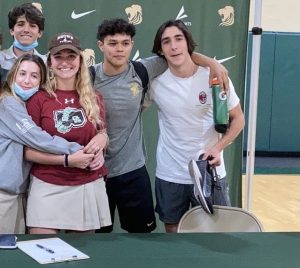 Ross committed to Brown in mid-August after heavy consideration, but knew it was the college she wanted to go to. She plans to be a Crew for the Varsity Sailing team at Brown, while also planning on majoring in political science and considering concentrating on a Pre-Law track.
"Brown was not necessarily my dream school, but once I kept looking into it, I realized it had everything I wanted in a school. Just before the coach reached out to me, Brown went from my list of top 3 schools, to the number 1 school," she explained.

"I visited the school in 8th grade with my parents just for the fun of it, but I never really considered the possibility of me going to school there. I have always found the campus beautiful and the environment was warm and welcoming, so I am very excited to be a part of it. I will have my official visit in April," said Ross, looking ahead.
Finally, Ross wanted to conclude with some advice to give to any ILS student who is trying to get into the competitive Ivy Leagues:
"My advice to students who are trying to get into these top universities is to focus primarily on their grades. Even if you are the best athlete your sport has ever seen, academics are still a priority. It is also important to participate in extracurriculars and clubs, as it shows an interest in something larger than just your sport or your grades. What helped me was my grades and my sailing career, as well as the diversity of honors societies, extracurriculars, and community service hours," concluded Ross.
Well, a bright and deserving future awaits Brianna Ross, and good luck to the rest of the seniors who are still waiting on their decisions later this school year.