ILS Sailing Team Brings Home Another Win
Immaculata-La Salle's Sailing team headed on over to Ransom Everglades this weekend and did not disappoint.
This past weekend the team's Varsity and Junior Varsity completed against 17 other  schools in the SAISA South Point In- District Regatta. ILS dominated these teams with just 45 points in over 14 races.
The early morning began at 8:30 am as sailors began rigging boats and setting up shop on the soccer field. The 10 team members attended the skippers' meeting and began to formulate their game plan for the day.
The day was beautiful, the wind was light, and the Royal Lions were ready to seize the day.
The winds began to build to around 10 knots by the first few races, which were sailed by senior Mitchell Callahan and junior Caroline Caudron in A division. B division was sailed by sophomore Umi Noritake and Soleil Aurignac. JV was sailed by freshmen Keith Grupenhoff and Caro Estrada.
"I'm really proud of the team and overall I think we performed very well. Winning this race is taking us to nationals which I'm very excited for," said junior Danny Riano.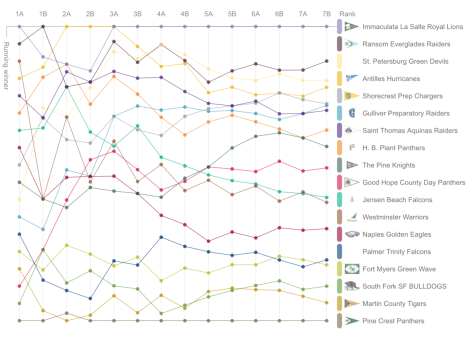 Around 12 pm, the wind began to pick up and knots were ranging at about 14-18 knots. Junior Holland Ramos (yes, that's me) subbed in as crew for B division and sophomore Emely Tamayo subbed in for JV.
Winning 11 of the 14 races with two second place finishes and one 5rd place finish, the ILS B boat won B Division with 25 total points. The A division boat won with 20 points.
This weekend the team is heading to Davis Island for their 4th SAISA regatta. Good luck !