Alumni Return to ILS, and not just for Homecoming
Thirty-five alumni have returned to Immaculata La Salle as teachers or staff to educate students. It seems like every year, more of the staff and faculty consist of alumni. Just this year, five the new teachers graduated from ILS.
As more and more alumni return, the question arises: what makes them come back? Could it be the welcoming environment La Salle provides? Or could it be because the ocean views seen when entering the campus?
When asked why she returned, alumni Camille Wildenburg stated, "ILS was THE place that taught me to love art. In 2011, I was given the opportunity to return as a faculty member and I grabbed it as quickly as I could so that I could inspire the youth and leaders of the future through art and creativity." 
Maria Cuesta explained that while she was enrolled in La Salle, she noticed how each teacher always had an amazing attitude.
"They were always optimistic, and were always friendly with each other, and also with the students," said Ms. Cuesta. "I just remember going to college and thinking to myself, 'when I leave here I would like to be back in this environment where everyone just kind of seems happy all the time.'"
Alumni Jose Companioni, who returned to ILS this year, explained how there isn't a better looking campus in Miami, and how he liked returning to a place of familiarity. 
As alumni return, it is inevitable that they notice the changes at ILS. From the increase in student body to the new academic courses being taught, alumni could feel them returning to a different school. But exactly how much has it really changed?
"ILS has changed quite a bit since I was a student, but the core of it is still very much the same," said Mr. David Fernandez. "I graduated in 1998 and the school has basically doubled in size since then. And obviously the integration of technology over the last several years is something that hadn't developed when I was here. Some wonderful strides have been made in the twenty-plus years since I was here as a student, but the core identity of ILS is very much the same." 
Mrs. Margarita Santana explained that when she was a student enrolled at ILS, her graduating class was much smaller than the average class size today, consisting of about 120 students.
Attending ILS has allowed alumni to grow in their faith. Cuesta explains how leading school retreats, like ETC, as a student has shaped her faith.
"ETC was getting so many participant. We had like 100 something participants for the weekend. And I just remember that one weekend, seeing people that I never expected on a religious retreat crying during adoration, that's when I kind of realized the power ETC has," said Ms. Cuesta.
Santana also touched on how ILS's retreats created the foundation of her faith. "I had a very positive experience when I was here and I remember all the retreats that I went to, like ETC #2."
As much as ILS has grown and advanced in academics and technology, some aspects can be missed.
Coach and Head Athletic trainer Eddie Cerdeiras, also an ILS alum, said he misses the simplicity of those bygone days. "It was a different culture, different era back then."
Cuesta, reminiscing about her days as a student, talked about the the thing she missed most about ILS.
"The one thing that I really wish ILS had today was the decorations of the buildings for homecoming. I remember just building those decorations. That was a huge bonding experience for like the entire class. It was just so much fun for that one week that you're walking around the hallways and you're just seeing all these different things. And every time you walk down the hallway, there's something new to look at."
The alumni that have returned to ILS do more than just teach. Two members of administration, Mrs. Monica Orelle, Dean of Faculty, and Mrs. Catherine Campos, Dean of Technology, both graduated from ILS. Mr. Gaston Arellano, Director of Campus Operations, is also an alum. 
 "My overall experience [as a student] was really good," said Mrs. Campos. "And now as it as part of the administration here, I would say I've seen a change in some ways. But it's just kind of grown with the times."
More than 30 alumni from the school have returned to the school and currently work here. Many are teachers, but some are administration, coaches and staff. ILS clearly holds a special place in the hearts of many of its alumni, and some of those have found their calling helping today's students in the same way they were helped.
About the Writer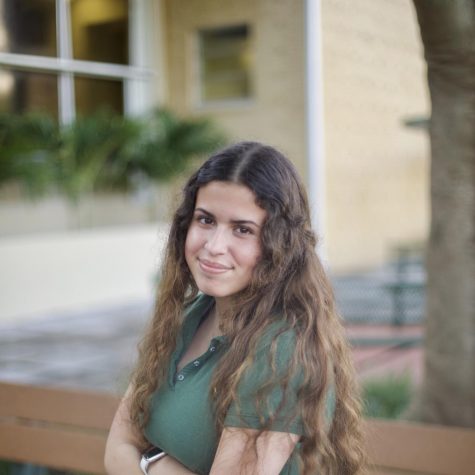 Dominique Gonzalez, Writer
Dominique Gonzalez is a senior is ILS who is enrolled in Journalism 1. Dominique enjoys reading and participating in school clubs, such as ambassadors and HOSA.