One to Remember: 150-Year-Old Legacy – FMA
One hundred and fifty years seems like a lot of time, yet it was 150 years ago that the legacy behind ILS's  beloved sisters began. 
It was in 1872 when a group of strong and faithful women called the Daughters of Mary, Help of Christians, or FMA, began.
If you study at ILS, you have at some point in your life emailed a sister. While typing in her name, your eyebrows have raised seeing an "FMA" always appear at the end.  But why?
"What does FMA mean? Figlie di Maria Ausiliatrice (Daughters of Mary Help of Christians) which is our official title in the Church but we are better known as Salesian Sisters of St. John Bosco," explained Sister Kim, ILS principal.
FMA is a short abbreviation for a very long and meaningful history of love and faith. Which is why this year, the school celebrates 150 years since the first profession of St. Maria Mazzarello and 10 other women August 5, 1872. 
It's a time to celebrate the sisters' call from God to help those around them and create a Salesian environment for young pupils.
"For me this is a further opportunity to give thanks for my personal call to be an FMA, the Institute itself and our faithfulness to the Church and the Pope, and our charism to the youth of the world," shared Sister Eileen. 
The Sisters were given this time of preparation, three years, for August 5, 2022.  They were provided with various articles and other media, reflections, meditations, and reading material which helped to define what it means to be a Gift to the Church, to one another and to the Institute. In the last century and a half, their Salesian family has grown in numbers and in hearts.
"I would like everyone to know that as individuals we are all individually loved by God.  All we have to do is be a human and we are loved unconditionally.  The more we strive to be like God in His image and likeness, the greater the gift of our peace and joy.  Mother Mazzarello and the other 10 Sisters took a risk as the first in a new Congregation. We too need to risk in the spiritual life," said Sister Eileen.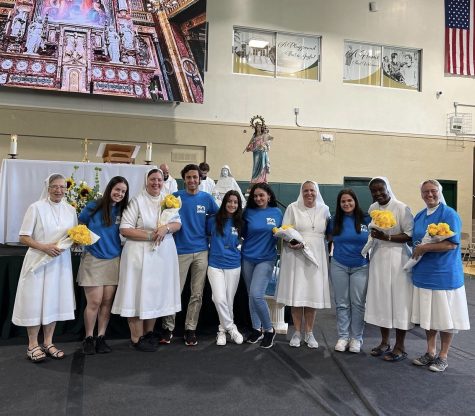 Being a Sister means recognizing God's call and not doing it as a sacrifice or burden. It is truly believing God chose you and that  He gives you the grace to answer each day.  It is something that changes them slowly.  Of course like any human, they get tired and want to stop making mistakes, but even in that they learn again how much they are loved by God.
Even though being a sister might not have always been their desire, with time it grew unto them.
"I did not always want to be a Sister.  I didn't want to wear a dress for the rest of my life.  I didn't want to be a teacher.  There are a lot of other things that I would have said no to just from the outside looking in on Religious Life.  BUT!!!!!  all that changed with the grace that 'slaps me in the face' each day.  The gifts that God showers on me daily makes this life so wonderful that if everyone understood, there would be a Salesian school in every city in the world," said Sister Eileen.
This celebration reminds them of the journey of fidelity of the Sisters throughout the past 150 years to follow Jesus and serve youth around the world. It is a living sign of God's presence and Mary's protection in the lives of the Sisters and the youth they have served over the past 150 years.
 "This 150th anniversary makes me stronger in my faith and love for Jesus, truly believing that the Salesian charism is very much alive and, that together with the young, we can become holy," said sister Kim.
This year during the anniversary Mass a few of the school's sisters renewed their vows to God and their vocation. They stood humbly knowing they are the living example of gratitude to Mary, the mother of God.
"To me, it is such a privilege to be an FMA. I am growing every day in becoming that living monument of gratitude. My heart sings of gratitude to God for having chosen me to be part of this family. I pray that all young people may encounter God in their lives. I want them to know that we, the sisters, pray for them every day. Engaging with young people is the reason of our existence as FMA. May they become aware of God's faithfulness in their lives as well," said Sister  Myriam. 
On this year 2022, will be 150 years since the first Salesian sisters took their vows for the first time. Like any anniversary, it brings nostalgia and pride but over all it brings a special honor to the Daughters of Mary Help of Christians and Don Bosco himself, as living monuments of gratitude to Mary.