Donate In Memory Of Lucy Fernandez and on Behalf of Katy Puig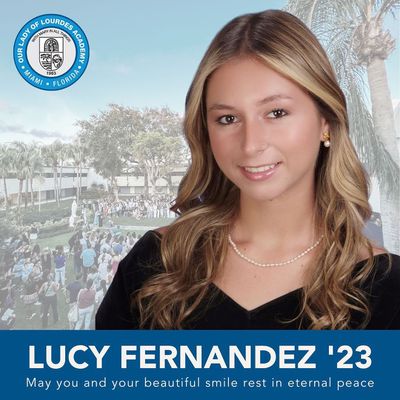 "
"Hailey Hernandez '23 has designed this beautiful sweatshirt, in memory of our sweet Lucy, which we know will perpetuate Lucy's Legacy of love and light in more ways than one.""
— OLLA
While the family of Lucy Fernandez mourn her passing, students at OLLA (Our Lady of Lourdes Academy) continue to keep Lucy and her legacy in their memory. They brought hundreds of daisies to place at the Lourdes grotto a few days after the accident,  and made sweatshirts to sell in her memory to raise money for the Lucy Fernandez Scholarship Fund which was created by her parents. On Sunday, September 4th, a group of 14 people were in a horrific boating accident, ending in the death of an OLLA beloved, Lucy Fernandez. Leaving one dead and several injured everyone came together to support and comfort one another.
Today, two are still in the hospital including OLLA student, Katy Puig who continues to recover, and for whom the entire South Florida Archdiocesan community of churches and schools is united in prayer.
Mr. Andres Fernandez and Mrs. Melissa Fernandez, Lucy's parents, organized a GoFundMe page to raise money for a scholarship fund for their daughter Luciana "Lucy" Fernandez. It was made to continue Lucy's legacy of faith, kindness, and love. With the original goal of $500,000 they have raised $612,793 and have now changed the goal to $700,000.
Katy Puig, another student who had sustained injuries in the boat accident, as well has a GoFundMe set up.
Mr. Alex Fraga and Ms. Isabella Puig have organized and raised $551,122 of their goal of $650,000 to help pay for the medical bills. They continue to post updates about her recovery on the GoFundMe page. 
While students at OLLSA continue to mourn and remember Lucy every day, a senior there created and designed the Love Like Lucy sweatshirt in memory of Lucy.
"Hailey Hernandez '23 has designed this beautiful sweatshirt, in memory of our sweet Lucy, which we know will perpetuate Lucy's Legacy of love and light in more ways than one."
The sweatshirt is available in two colors. Each is $28, and 100% of the proceeds go toward the Lucy Fernandez Scholarship Fund.