Homecoming Recap: Day 2 – Twin Tuesday
A big part of homecoming week is Twin Tuesday. Each class has a theme to follow and the class who matches the best wins. 
Seniors, class of 2020, are upholding the tradition to dress up as senior citizens for twin Tuesday this homecoming week. They are dressed in robes and slippers and using things like walking canes and baby powder to color their hair grey. 
Dominique Gonzalez, senior, thinks the senior citizen theme is perfect. "Dressing as seniors match our grade perfectly because we are really starting to feel old."
The teachers dressed quite interestingly. Some of them dressed in nun habits while others dressed as each other. Ms. D dressed in Mr. Wexler's clothing and they really were twinning. The Forgien Language department twinned as ducklings following Mrs. Crotty, the mama duck.
The English department came dressed as Dalmatians, and the department head, Mrs. Ana Garcia, came as Cruella De Ville.
The Tech team had fun, coming dressed as characters from Netflix's hit show "Stranger Things," perhaps one-upping their get-up last years as T-Rexs.
The Math department poked a little fun at their students by coming dressed in the questions normally asked. Some of the questions were: "Can I go to the vending machine?", "Can I text my mom?", "Ms, can you open MathXL?" and "What can I do to get my grade up?"
Juniors are dressed in university wear as stressed out students. This theme fits the class of 2021 perfectly as now is when they start to experience the stresses of college applications and acceptance. 
Sophomores, what most call the forgotten year of high school, were dressed in camo which is only fitting and freshman, as they are the youngsters of the school, dressed appropriately as babies. 
Many freshmen embraced their position at the bottom of the totem poll by coming dressed as babies, while others came as cowboys.
The football team embraced their Catholic school identity by dressing up as members of the clergy, including the Pope and even Jesus!
https://www.instagram.com/p/B37rZzNlrD0/
About the Writer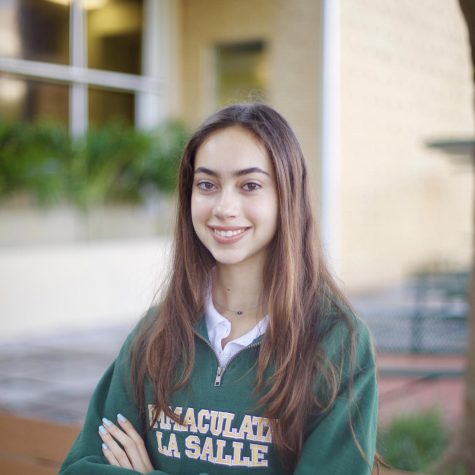 Sasha Kuntz, Writer
Sasha Kuntz is a senior at ILS this year and is enrolled in Journalism 1. Sasha enjoys spending time with animals and reading novels.