A Christmas Carol
"A Christmas Carol" is a magical movie for you and your family to watch together and feel the holiday spirit. "A Christmas Carol" was directed by Robert Lee Zemeckis and came out to movie theaters in 2009. The cast includes Jim Carrey as Ebenezer Scrooge who is the main character.
It's the Christmas season in London but Ebenezer Scrooge would rather work then join the Christmas spirit. He screams humbug to his business associate and nephew all through the month of December until one very important night.
 The ghost of his dead business partner haunts him on that night and warns him three ghost will visit him. These ghost take him through his past, present, and future hoping that it will change his view on life.
This is a kid friendly movie but it's does have a few parts that might be scary to very young kids. If you have younger children or siblings make sure to watch it with them because there are a few jump scares but nothing to make them have nightmares.
 In my opinion the plot is put together incredibly. The movie is said to be dark, intense, kid-friendly, inspiring, and emotional.
A Christmas Carol shows us how important it is to spread love and happiness during this season. It also portrays how having family and loved ones is such a necessity during the holidays.
 While the ghost take Scrooge on his journey he realizes how cold he became throughout the years. Which makes him realize why he is lonely.
His loneliness leads him to act bitter towards the people who are cheerful in his life. Happiness makes him feel bad because he doesn't know how to be happy. 
He feels bad for himself in the past because of all the trauma he went through but the more they get into it the more frustrated he becomes. Scrooge then gets rid of this ghost only to find the ghost of Christmas present.
Scrooge is showed the world through the ghost point of view and how beautiful and happy it is during the Christmas season. He also sees his family together and how they are making fun of him yet the only reason the cheers to him is for his wealth.
The ghost of the future arrives and does not speak but sends Scrooge to the future. Scrooge has died and no one seems to care, this is when he realizes he must change in order to change the future.
He becomes a more cheerful and giving man to everyone he encounters. Christmas is a time of giving and joy which this movie in a twisted and creepy way portrays.
About the Writer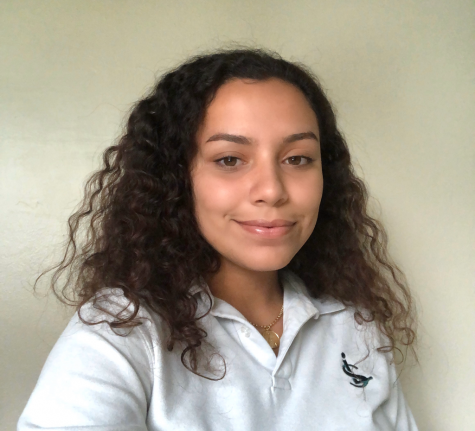 Lia Sarria, Writer



Lia Sarria is a senior at ILS this year and is enrolled in Journalism 2. Lia enjoys learning and writing about fashion and pop culture.