Christmas concert brings holiday joy to ILS
Last Thursday night, ILS hosted its own spectacular Christmas concert, bringing Christmas joy to the community. The show itself started at 7pm but parents who wanted to attend the event at 6-7 were introduced with baked goods. 
The events musical talents were hosted by Mr. Alicandu and Mr Cabrera who also brought the new LaSalle band to the showcase. The event was hosted in the black box theatre where the event sold out and had a full house.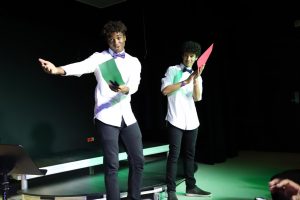 Juniors Max Betancourt and Yohance Forde were the emcees for the evening and brought a great deal of energy to the festivities.
Many of ILS students performed at their best and showed the crowd what talents LaSalle truly holds. The room was filled with Christmas spirit and everyone had a smile on there face. Many of the performers were dressed in Christmas attire and it really boosted the Christmas spirit. 
Many of the performers were pianist who had only a few months of experience yet amazed the crowd with the talent they hold. Senior Jock, brilliantly performed "The Christmas Song" by Nat King Cole, which eased the crowd and let them really enjoy the spirit in the air. 
Each and every performer did there very best and the show was immaculate. Mr Alicandu and Mr Cabrera did an outstanding job teaching these kids and putting up the show they did. The show was truly successful and it was a way to show parents what our school is made of. The event itself brought families closer together and was a great way to spend a night with family and friends.
After the show the Band program was selling baked goods as the crowd exited. This was a way to introduce and help out our own ILS band which was created this year by Mr. Alicandu. Families were able to leave with happy feelings and a cookie in there hand. 
Many of the people really enjoyed the event. Senior Christian Nunez enjoyed his time saying:
"The Christmas concert was really interesting and it brought a lot of Christmas spirit to ILS. I really enjoyed coming to the show and I really would of recommended more students coming."