Soccer Senior Night ends in Ties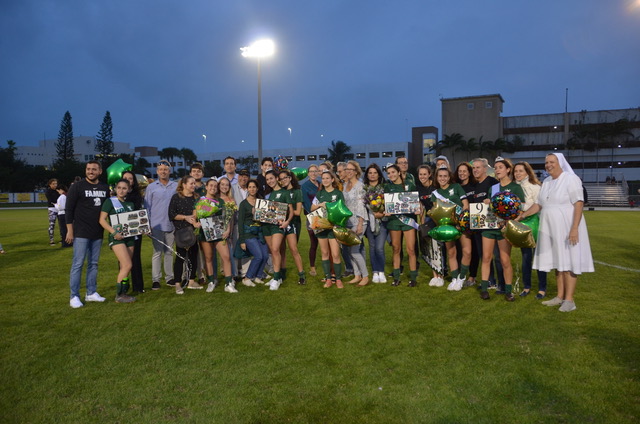 Last Friday night, Immaculata-La Salle's two soccer programs enjoyed their Senior Night festivities. Both the boys and girls varsity soccer teams hosted Key West, and both teams came away with a tie.
Senior Night is often one of the most exciting events of any sports team's season. It's an evening where the seniors on the team are honored for their hard work and dedication over their career. Some teams have seniors who've played for four years, while other teams' seniors joined the varsity team later.
For the Lady Royal Lions varsity soccer team, the seniors have been the driving force this season. Seven seniors play pivotal roles for the Lady Royals, starting with Anabel Toledo and Valentina Pafumi. Both are major parts of the team's offensive success, with Pafumi being tied for the team lead in goals (4) and Toledo leading the team in assists (6). Senior Jenna Medina has one assist from her forward position.
In addition, seniors Jessica Saavedra and Sofia Concepcion control the midfield for the Lady Royals. Saavedra has three goals on the season, while Concepcion has one. Julia Taquechel and Antoinette Volpi hold up the defense for the team.
One senior night, the Lady Royals took an early lead against Key West, but surrendered a pair of second-half goals. ILS netted a second-half goal as well, leading to the tie. Toledo and Pafumi scored both goals, and notched both assists.
The Lady Royals are now 5-4-2 on the season, and are set to host Coral Shores on Wednesday at 6 PM.
The boys soccer team also features seven seniors, led by forward/midfielder Kamani Turner. Joining Turner in the midfield this season are seniors Marcello Aedo, Juan Diego Cozzo and Horacio Rodriguez. The defense is anchored by seniors Miguel Valle, Mateo Munizaga and Santiago Ballestas.
The seniors for the Royal Lions have provided leadership for the rest of the young team. There are many freshmen who are playing heavy minutes for ILS this season, so the seniors have provided the necessary leadership.
Against Key West, the Royal Lions netted a first-half goal by junior Samuel Rodriguez and surrendered a first-half goal to the Conchs. Both teams played good defense throughout the second half.
The boys soccer team, now 2-2-3 on the season, travels north to play Miami Country Day on Monday afternoon.