ILS Cheerleaders Win State Championship!
On Saturday afternoon, the ILS Cheer team won the Competitive Cheerleading State Championship in the 1A Extra Large Non-Tumbling Division. The Cheerleading State Championships were held at the Exactech Arena at the Stephen C. O'Connell Center Gainesville, FL.
The ILS Cheerleaders left early Friday morning to travel to Gainesville for their Saturday afternoon performance. The team placed second in the previous weekend's Regional Final competition. It's the ILS Cheer squad's second straight State Championship appearance. Last year, the ILS Cheer team took home fifth place at the State Finals.
This year, though, the ILS Cheerleaders won the State Championship!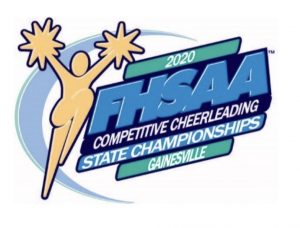 ILS placed first amongst the nine schools from across the state of Florida competing in the 1A Extra Large Non-Tumbling Division.
The Lady Royal Lions cheerleaders put up an impressive 78.60 score on their routine to finish first. The second place school was Fort Lauderdale public high school Stranahan, who scored 74.10 on their routine. Trinity Catholic High School from Ocala, FL, finished third with their 74.00 score.
The Lady Royal Lions score of 78.60 improved upon their 74.90 score at the Regional Final. In that completion, ILS finished second, behind Coral Glades High School. ILS topped Coral Glades in the State Championship.
The ILS Cheer team head coach is Coral Buxeda.
The team is made up of juniors Camila Casique, Maria Castro, Andrea Dutkowski, Kaitlyn Laurido, Alexia Menendez, Cameron Pasion, Sofia Peñas, Ana Victoria Salazar, Monseratte Vivas; sophomores Bianca Bartolomei, Victoria Betancourt, Lauren Dominguez, and Alexandra Garcia; as well as freshmen Jasmine Gago, Anabella Hernandez, Silvana Levito, Sofia Plasencia, Tiffany Reyes, Isabella Sacasa, and Valerie Welvaert.
Check out the webcast stream of the Cheerleaders State Championship winning routine: