Creative Writing at ILS
Creative writing class I,II, and III is an elective offered at Immaculata La Salle that gives students knowledge in poetry, descriptive and figurative language, and all the different forms of literature. It is an overall writing experience that will help students in all aspects of the writing process. 
The first quarter revolves mostly around writing narratives with fantasy elements. Furthermore, mood boards and different media elements are utilized all throughout class to aid students in the storytelling process. This allows them to use their own personal elements and full creativity into the stories they produce. 
During second quarter, students in creative writing will explore the vast world of poetry, wile learning about figurative language and elements used in the analyzation process of reading and understanding poetry. For each form of poetry learned, students are allowed to use their own ideas to form one of their own. 
This class is perfect for those to want to learn more about different forms of literature and how to utilize their knowledge to write stories and poetry utilizing creativity to its full potential. The mastermind behind creative writing at La Salle is Mrs. Roman-Gonzalez, and she loves teaching this class because "it allows students to express their thoughts and ideas freely in a creative way, through prose or poetry, and it provides a peaceful environment to experiment with different mediums and forms of writing.  It also allows students to publish their work through Inklings magazine". 
Isabella Perea, senior at ILS takes Creative Writing III as one of her electives. To her, this class is all about imagination. "Students in this program are able to express themselves and bring unordinary things to life, and this class grants opportunities for students to gain more skill in reading, writing, and analyzing text". 
Students are able to utilize their creativity by completing projects such as writing a fantasy story about a personal incident, writing poetry on any given topic, or even creating a theme park by gathering different images and putting them together on a mood board
Dominique Gonzalez, also takes Creative Writing I as a senior year elective. She says creative writing has really helped her writing skills blossom over the past year. "It benefits me because it helps me get my creative juices flowing while helping me become a better writer, and I would recommend this class because not only does it teach writing skills but it's a really fun class that I'm always looking forward to". 
This class will teach you how to write better and more creatively, even if it is something that doesn't come naturally, all while being a peaceful and experimental environment.
About the Writer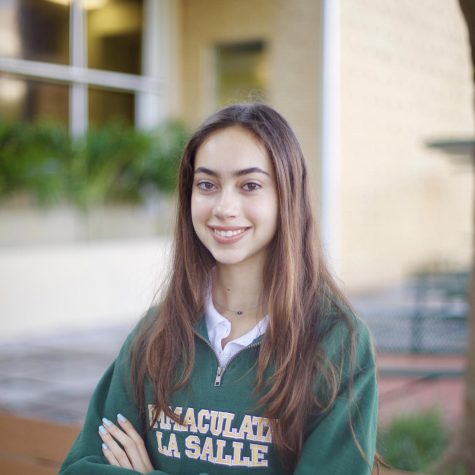 Sasha Kuntz, Writer
Sasha Kuntz is a senior at ILS this year and is enrolled in Journalism 1. Sasha enjoys spending time with animals and reading novels.