Speech And Social Media Elective
Last year, ILS gained many new electives, including, a speech and social media class taught by Ms. Maria Cuesta. In this class, students learn different techniques on how to speak publicly with more confidence. Also,  students learn about the negative and positive aspects of the world of social media. 
The first semester of the year students take the speech portion of the class and social media in the second semester. During the speech class, students learn about how to do persuasive, informative, entertainment, and instructional speeches. Students are able to choose what topic they speak about and after preparing a speech, they have to speak on the podium in front of the class about their topic. 
Ms. Cuesta teaches the students the importance of eye contact with the audience, fluctuation of voice, and not saying filler words such as "like" or "um". 
While they are speaking, students will be graded based on if  they met the specific time limit given, showed confidence through body language, and amounts of time that they looked at their iPad. Additionally, during the speech two to three students are assigned to take notes on how the speaker presented and what he he or she presented about. 
Throughout the first semester, Ms. Cuesta teaches the students about how to properly prepare for a job interview. She provides them with with a guide on what they should and should not do during the interview. Ms. Cuesta says that the job interviews unit is one of her favorites to teach. 
"Job interviews is always a wonderful unit because I can tell that the interest level rises, since this is something mostly everyone will experience. I also love when we start doing mock interviews because students realize some of their bad habits that need fixing," she said. 
In the second semester, Ms. Cuesta teaches the students about how companies use social media to promote and market their company. Also, she teaches them about the history, psychology, 1st amendment rights, terms and conditions, ethics and etiquette of social media. 
During the social media class, students are assigned several projects including, a week where the students cannot use social media for a week in which they have to write their thoughts in a journal throughout the week. In addition to a project where students form groups and create their own company, using social media platforms such as Instagram, Snapchat, YouTube, and Facebook to promote the business. 
From the social media semester, Ms. Cuesta enjoys teaching students about the overall dangers and beauty of social media. 
"I think my favorite thing to teach during the social media semester is the psychological aspects of social media. I love seeing the concern students have for the future, especially when we learn things like textbooks dumbing down the information presented and its correlation to social media. I personally love this unit because it does highlight all of the dangers of social media while also pointing out hopeful things for the future, " she explained. 
"This unit we also do a no social media project which, for those who stick to the project, can teach us something about ourselves and our addictive habits," she said.
Sophomore Sara Robinson chose the speech and social media class as an elective because she wanted to learn how to speak in public and use social media to her advantage. She enjoys that the class gets her out of her comfort zone. 
"The thing I enjoy most about the class is getting out of my comfort zone. I was able to get over my fear of speaking in public. So far I have learned about hoe social media impacts my generation on a daily basis and how to make effective and persuasive speeches," she said. 
Sophomore Allison Perez took the elective because she knew that she was not good at public speaking and she wanted to improve in that. She appreciates the calmness in the environment of the class. 
"The students and the teacher are such great people and it makes the class so much better. In addition, the class really helps you improve your public speaking and can even get rid of your fear of it. I have learned how to make a good speech and what to do while doing it. I know now that I cannot fidget and say "um" or "like" in my speeches," she said. 
This elective is a great addition to the ILS curriculum. Because of this elective students will be more informed about social media and learn how to better articulate when speaking to others through interactive lessons in class. 
About the Writer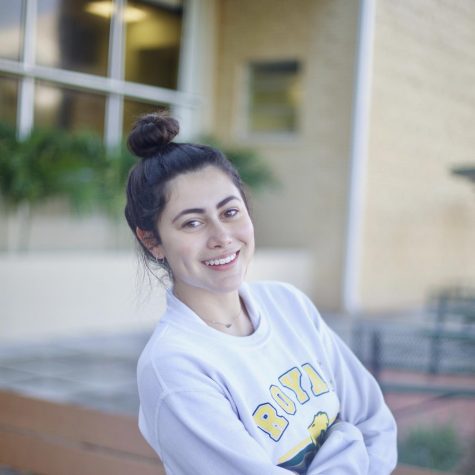 Ella Perez, Writer
Ella Perez is a senior at ILS and in the class Journalism 1. Ella loves dancing for the Lionettes and enjoys covering the Entertainment beat.