Drama's I, II, & III Electives
Drama is a interactive class where you learn many things like the history of drama, historic plays, and how to act, read scripts, and set and costume design. 
The drama elective is available in three levels: Drama I, II, & III. To move on to the next stage you must be required to take the pervious level before it. 
Drama I requires no skill to take and you will be able to learn stage direction, the technical side of live theater, and the history of drama. It is the practice of theater arts or anything relating to theater. It is a class where you mainly learn the basics of theater to get you started on your acting career. 
Drama II and III students are usually combined in one class. The classes are very similar but go more in depth to theater and acting. Drama teacher, Ms. Orelle explains:
"In Drama 2 & 3, you go deeper into different styles of acting and are expected to apply the skills and lessons you learned in Drama 1. Futhermore, You delve more into the world of acting and really start learning how to be a successful actor. You learn about stage and film acting, you learn about the work that goes into acting, and as a final project you need to put on a show all on your own."
Mrs. Lianne Rodriguez, the full-time drama teacher, is currently on maternity leave. Not only does she teach Drama I, II, & III, but she also teaches musical teacher and costume design. She's an ILS alum who was part of the drama program as a student.
Even if you are not interested in being on stage you should still highly consider taking Drama. 
Not only do you go over acting but you also go over many attributes of the technical side of theater. Such as, lighting, costume design, set design, make up, stage hands, and much more.
Senior Cesar Camacho, who is currently taking Drama and enjoys the technical side of the elective, says,
"It's very fun and interesting, you often don't see a lot of the behind the scenes of a show and I like the fact that I can be apart of what makes a show work and happen"
When asking Ms. Camille Wildenburg, the department head of Fine Arts at ILS, why student should take the Drama elective(s) she said:
"If you love to just watch TV (or Netflix) it is highly recommended that you take Drama! Just have an open mind and open expectations in terms of taking the class and learning new material!"
Many student really enjoy this class even if the not interested in theater or "broadway". Drama is more than just that. It's a great way to learn how to understand others and help you get out of your skin and be more confident in who you are. 
Senior Sophia Barreto, who is currently taking Drama III, Says 
"It's different and something new, it's a community I've never experienced before and I'm glad I've allowed myself to be part of it." 
About the Writer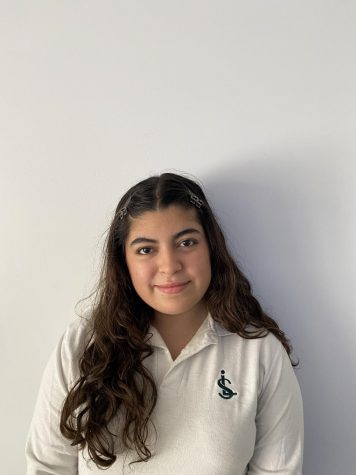 Sophia Rabelo, Writer



Sophia Rabelo is a senior at ILS this year and is enrolled in Journalism II. Sophia enjoys participating in the school's drama program and enjoys covering its events and news.