Celebs Speak Out about Coronavirus via Social Media
Over the past couple days in quarantine, celebrities have used their platforms as an opportunity to speak out about the coronavirus.
Many celebrities have been urging their followers to stay at home. Social distancing can help slow down the spread of the coronavirus and protect the elderly, who are more likely to die from it.
Big celebrities like Ariana Grade and Justin Bieber have been posting on Instagram about the importance of taking this situation seriously.
Miley Cyrus from Hannah Montana and Devon Werkheiser from Ned's Declassified School Survival Guide posted pictures and videos from the old TV shows they used to star on. They made small jokes but tried to make sure everyone stays safe.
However, there have also been a few celebrities, like High School Musical star Vanessa Hudgens, who were insensitive about the coronavirus situation.
On Monday, Vanessa hosted a Instagram Live and she spoke about COVID-19. She made some questionable comments and immediately after got a lot of angry comments. She has since deleted the clip and posted a response video. She didn't exactly apologize for her remarks.
"I realized today that some of my comments are being taken out of context, it's a crazy time," said Hudgens.
She also posted a lengthy note in Twitter saying that she was sorry about the way she has offended people. She realized she was being not appropriate for the situation and tried to bring a positive light on being quarantined.
But most celebrities are taking to social media to comfort and entertain their fans.
Yesterday, Wonder Woman star Gal Gadot brought several celebrities together on Instagram to sing a version of the Beatles' famous song: "Imagine."
On March 15th, actor and former governor of California, Arnold Schwarzenegger posted a video on Twitter about social distancing in his home state. In the video, Arnold has his pet donkeys Whiskey and Lulu.
Stay at home as much as possible. Listen to the experts, ignore the morons (foreheads). We will get through this together. pic.twitter.com/FRg41QehuB

— Arnold (@Schwarzenegger) March 16, 2020
Everyday more and more celebrities post positive messages about the situation and giving advice on how to stay healthy and to protect everyone around you.
About the Writer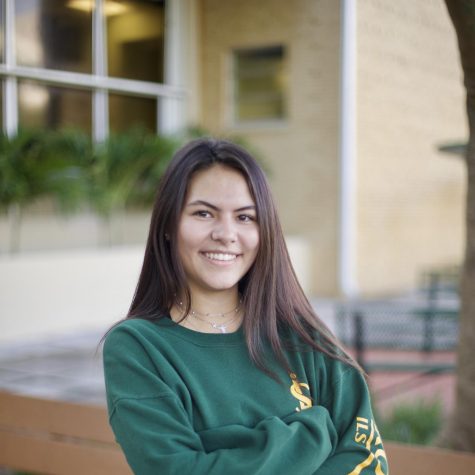 Bianca Sanz, Writer



Bianca Sanz is a senior at ILS this year and is enrolled in Journalism 2. Bianca enjoys fashion and videography. She also loves writing about entertainment.