Two words: Joe. Exotic.
Netflix has recently released a documentary miniseries called "Tiger King: Murder, Mayhem and Madness ahead. It has become one of the most talked about shows in the world.
The series shows you the trials, tribulations, and rise to stardom of Joe Schreibvogel aka Joe Exotic. He is the self proclaimed "Tiger King" and owner of Oklahoma's Greater Wynnewood Exotic Animal Park where he owned over 200 tigers and other exotic animals.
Tiger King takes you into the bizarre universe of the big cat world. The most interesting part of the documentary is Joe's feud with Carole Baskins (Joe's nemesis and owner Big Cat Rescue), and his business relationship with Jeff Lowe.
We meet Carole Baskins, an animal rights activists and owner of Big Cat Rescue which is a non-profit animal sanctuary near Tampa, Florida. Joe and Carole's feud begins when she was protesting Joe's exploitation of tiger cubs.
She was successful in shutting down his exotic traveling petting zoo, which at the time, made up most of Joe's income. Joe's over the top reaction to Carole's protests quickly turned into a sickening and dangerous obsession.
As this storyline evolves, we find out Carole's second husband, multi-millionaire Don Lewis, goes missing. Joe used this little tidbit to his advantage and began circulating rumors that she killed her husband and fed his body to her tigers which now brings much suspicion into her life.
Then we're introduced to Jeff Lowe, a former felon who partners with the Tiger King. Slowly but surely, as the insanity of Joe's life goes off the rails, Jeff takes complete ownership and Joe ends up losing the zoo and his piece of mind.
Even though he was down on his luck, Joe found a way to embezzle money from the zoo in order to run for President of the United States in additional to running for governor of Oklahoma. Crazy to say the least.
Jeff finally got rid of Joe by threatening to expose his illegal campaign contributions and Joe's plan to kill Carole Baskin.
In the end, Joe was sent to prison for 22 years for many charges including the plot to hire for murder of Carole Baskins and animal abuse and cruelty.
Its clear that this isn't a tale of heroes and villains, but of damaged individuals. This series shines a light on how the wild animal market is full of corruption and unfortunately how the exotic cats are viewed as nothing more than big time money makers. The only ones here that suffer are the big cats.
Tiger King is a must see!
About the Writer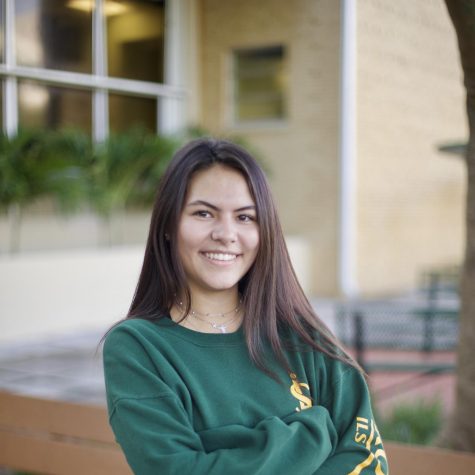 Bianca Sanz, Writer



Bianca Sanz is a senior at ILS this year and is enrolled in Journalism 2. Bianca enjoys fashion and videography. She also loves writing about entertainment.