ILS Girls Soccer Program Continues To Represent on All-Dade Teams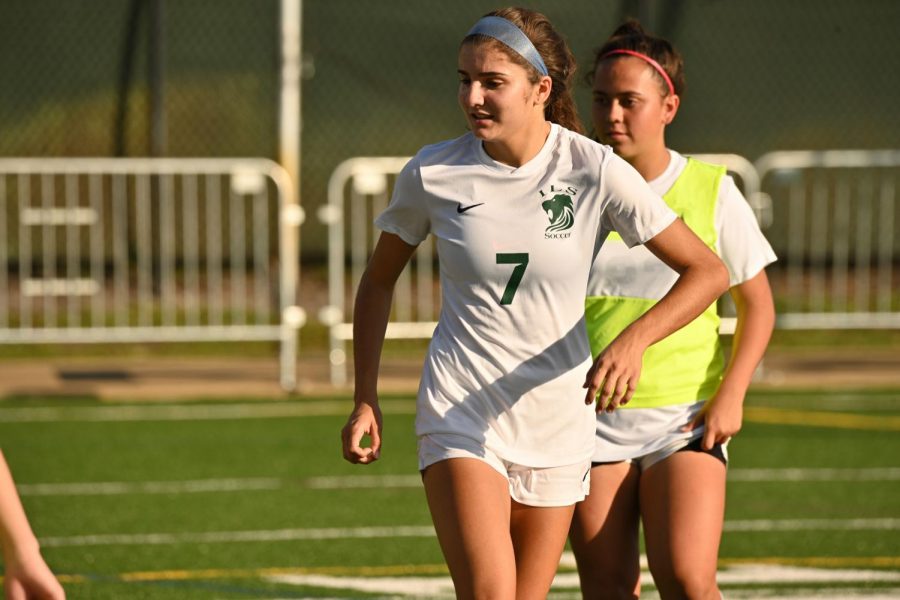 There are few programs at ILS with the same consistent success as the girls soccer team. With multiple district championships in recent years, as well as deep runs in the regional playoffs, the ILS girls soccer team is the model for sustained success. And much of that success is thanks to the players.
The ILS girls soccer team has seen a consistent representation in the Miami Herald's All-Dade teams over the years. Recent alumni like Karin Santin, Kiki Maribona and Amanda Santin have all made appearances on the All-Dade teams. And this year, the ILS girls soccer team saw another four players honored on the all-county squads.
Senior Amanda Toldeo made her fourth appearance on the teams, tying a school record. Toledo has been one of the most productive players in program history, and has been on one of the All-Dade teams every year since her freshman year when she was made Honorable Mention. Her sophomore and juniors seasons saw her earn All-Second Team honors. As a senior, she earned an All-Third team distinction. But the reality is, Toledo should have been on the First Team.
"Anabel always put her best forth, no matter who the opponent was she always tried her best," said Coach Dilenia Gomez. "Even on her 'bad days,' she always knew how to grind."
Toledo finished her senior season with a team-leading six assists. Playing primarily forward and midfield, she finished third on the team with three goals. For her ILS career, Toledo notched 36 goals, which is the most in a four-year stretch for the program since Karin Santin (Class of 2017) scored 58. That's more than Kiki Maribona's 33 goals. Toledo also finished her career with 45 assists, which is more than Santin, Maribona (Class of 2019) or Stephanie Cuan (Class of 2019).
The other seniors who were recognized by the Miami Herald for their play this season were Sofia Concepcion, Valentina Pafumi and Jessica Saavedra. All three earned spots on the Honorable Mention squad, as did junior Sabrina Sousa.
"I was very honored and excited," said senior Sofia Concepcion. "I've worked very hard these past four years, so it was very rewarding."
Playing mostly midfield, Concepcion finished her ILS career with 10 goals and eight assists. As a senior, her only goal came during a 3-1 victory over Miami Country Day.
Sofia was seen as a leader on the team, with Coach Gomez noting: "Sofia always lead by example. When the girls heard her speak, they knew she meant business."
Valentina Pafumi was second on the team in goals this season (4), and netted he game-winning goal versus Ransom earlier this year. She finished her career with 23 goals, and added 13 assists as well. "When I heard I had been selected I was extremely honored and happy to be recognized."
Jessica Saavedra led the team in goals this season (5) and had two two-goal games. Playing a mix of forward and midfield, Saavedra notched 30 goals and 18 assists in her ILS soccer career.
"Jessica, was definitely one of our toughest players, slick too, she knows how to clap a player and keep it moving," said Coach Gomez.
Junior Sabrina Sousa was the only non-senior honored with a sport on an All-Dade squad.
"When I heard I got selected it felt good and wasn't really expecting it but it got me excited for next year so I can strive to do better," said Sousa, who was an anchor defensively for the team. The coaches noted Sousa has grown into a leader on the team, and remains a hard worker and calm presence on the field.
ILS girls soccer head coach Anthony Vuono was particularly proud for his players.
"The girls soccer coaches, player and alumni are very happy for the players that received the All-County recognition. We would especially like to recognize the four seniors who were honored, and thank them for a wonderful career."
ILS Athletic Director Nick Fernandez was always impressed with the girls soccer team.
"The girls soccer team has really been amazing to watch," Fernandez said. "These last two years, the girls have made it to the regional tournament twice and won a district title. These young ladies have been a huge part of the program success over the years. It's no surprise they were awarded All-Dade honors. They all are very hard working young ladies that have a bright future ahead of them! I am extremely proud what they have accomplished this year."
The team represented ILS well, as they always do. They were competitive despite an incredibly difficult schedule. Thanks to their impressive play, the team qualified for the Regional Tournament and had a good showing. Although they came up short, the ILS girls soccer team pushed eventual regional champ and state runner up Carrollton.
"I have to say I am proud the growth each of these young ladies showed, on and off the field," said Coach Gomez.
Concepcion, Pafumi, Saavedra and Toledo were all four-year lettermen with the ILS girls soccer program–not an easy feat to accomplish. Despite not finishing their season the way might have wanted to, these seniors have certainly represented the school well and with grace over the last four years.
"This last season was more than memorable since it was my last high school season and I was captain," said Concepcion. "I grew close to many of the girls on the team and I enjoyed every minute of it."
Pafumi echoed those sentiments. "Overall, I think we had a great season. We bonded as a team and get closer, which helped our chemistry on the field. We were also able to defeat our greatest rivals and made it to regionals!  I want to thank my coaches and teammates that have been with me these last four years and say that I'll always hold them close to my heart."