Quarantine Routines
Due to the Coronavirus many students have been changing their habits at home. Many people have been exploring new hobbies such as working out and have been also dieting to feel better about themselves being lazy during this time.
Some ILS students are spending more time with their families and trying new ways of eating.
"I have been resting a lot and spending quality time with my family members and I've also been trying to diet so I'm eating less," said junior Alessandra Fernandez.
Junior Sofia Farres already has her own company so quarantine has made her split her time between working and studying.
"A day in my life is mostly just me waking up, going to my classes and doing all my work, maybe have an SGA meeting or SALTT meeting, then working on stuff for my company from after school until like 11 pm. I do team meetings, I've been designing new stuff a lot, working on the videos I make. Stuff like that. I take breaks in between to shower, eat, exercise, and spend time with my
parents," said Farres. "I've been working a lot on stuff for my company and preparing for my AP tests."
ILS students have different ways of passing time, some workout, talk to their friends, watch TV, even practice yoga and others make Tik Toks.
"I've been bike riding almost everyday," said Fernandez. "I do yoga which I found out its my new hobby and watching a lot of movies."
Junior Charlize Ramos also tried to be active. "I've been working out and going for runs, and also watching a lot of Netflix, I also make Tik Toks," said Ramos. She's also spent time delivering cards to her friends during this time in quarantine.
Ramos ended up preparing gifts for them with a handwritten note, a picture of the two of them together, and some candy and delivered them to all of their houses.
They all still followed social distancing protocol but were able to see each other again, even from far away, and Ramos reminded everyone how loved they are during a time when it's more necessary than ever.
Students are hoping schools are able to reopen by August.
"I'm really excited to return back to school in August because honestly, I'd much rather prefer being at school and seeing my classmates and my teachers every day than through a screen. And also I'm really excited because it's our senior year and I really want to be able to have the full experience and to spend my last year of high school with my La Salle family," said Ramos.
"I wish we could go back to school before cause I miss everyone a lot but I'm really excited to go back whenever school opens again. Hopefully it opens by august," said junior Sofia Farres.
Despite these tough times, we are doing the best we can. Hopefully the ILS family will be reunited sooner.
About the Writer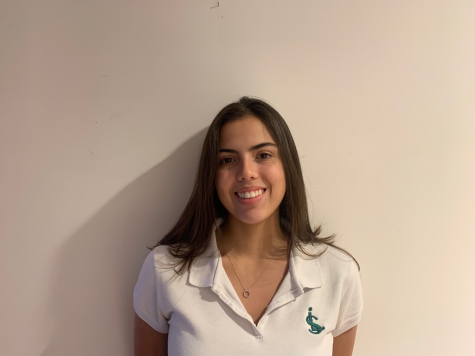 Marjorie Amaral, Editor



Marjorie Amaral is a senior at ILS this year and is enrolled in Journalism 3. Marjorie enjoys covering the Entertainment beat and Campus Life.