Boss Fight Challenge Goes Viral on Instagram
Since quarantine began, many people have created new challenges on social media. One of the newest challenges on Instagram is called the "Boss Fight Challenge."
Zoë Bell started this trend with many of her famous friends and she began an action packed virtual fight. The internet went wild over the video and now it has over 2.5 million views on Instagram.
You can see the videos on many of the women's Instagrams here.
The video began with Bell, who's been a stunt double for Uma Thurman in "Kill Bill" and Lucy Lawless in "Xena:Warrior Princess," saying how she was bored and wanted to play with her friends.
She gets up and says, "Wait a minute! I can play with my friends," as she kicked the camera. She the sets off a chain reaction of a lot of action packed moves.
Iconic actresses such as Cameron Diaz, Drew Barrymore, Margot Robbie, Scarlett Johansson and numerous famous women followed as if they were actually fighting. They incorporated funny scenes such as throwing puzzles or someone falling into their pool.
The interesting part of this challenge is that as each person hits the camera and it immediately cuts to the next person as she takes the impact as if they were in a actual fight.
It is an epic video of many stunts, editing and acting skills — all put together without anyone collaborating in-person and all filmed in their own homes.
The soundtrack used for this fight is "The Healer" by KT Tunstall, who's in the last shot playing guitar on the toilet. Sadly, she missed out on the brawl, but she did say to tune in next week for the next fight.
The Boss Fight Challenge is one of many challenges that celebrities have taken part in during quarantine, including The Handstand Challenge and the All In Challenge, a campaign that provides once-in-a-lifetime celebrity experience with the proceeds helping feed those in need.
Stay tuned this weekend to see who will be in the next Boss Fight!
About the Writer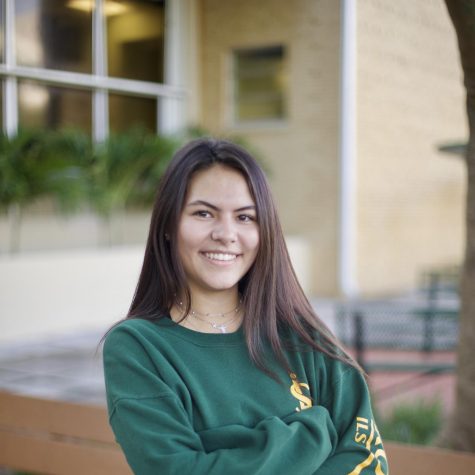 Bianca Sanz, Writer



Bianca Sanz is a senior at ILS this year and is enrolled in Journalism 2. Bianca enjoys fashion and videography. She also loves writing about entertainment.