Athlete Spotlight: Senior Softball Players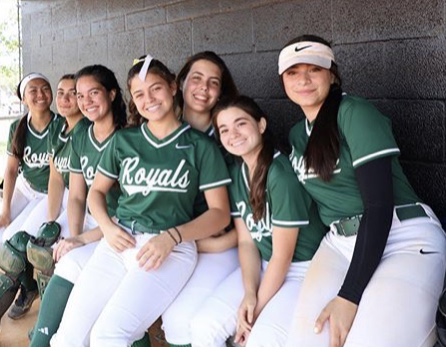 The ILS Instagram highlighted the senior members of the softball team this week. The five seniors on the 2020 squad were Jayleen Peraza, Gabriella Piedra, Yasmine Regueira, Alexandra Rodriguez-Schack and Alexandra Tsotsos. Of the five, Peraza, Rodriguez-Schack, Regueira and Tsotsos were four-year lettermen with the program.
This crop of seniors played an integral role in the development and growth of the ILS softball program. For years, these seniors did not have a space on campus to practice. And they never got to experience a true "home" game, considering ILS doesn't have a softball field on campus. That didn't stop this group though.
"Playing softball at La Salle was a wonderful experience that I will forever be thankful for," said Rodriguez-Schack. "Many of them are some of my best friends that I know I will continue to talk to even after high school."
"Being an athlete at ILS is something I will always remember," said Regueira. "In being an athlete at ILS, I have created a family within my team. I have made such great friendships and memories as part of the ILS softball team."
Tsotsos called her time playing softball "amazing. I not only became better at the sport but I gained a new family," she said.
Perhaps their most cherished memory will be the program's South Florida Softball Conference championship in 2017. It was the first championship for the ILS softball program in more than 20 years. The last title prior to the 2017 SFSC championship was the 1996 district title.
That season, under the guidance of then-head coach Rick Hernandez and assistant coaches Genevieve Roberts and Sister Clare Kenelly, the softball team ended the season with an overall record of 15-3 and as regular season conference champions. They also dominated the post-season conference tournament, winning the championship with an 11-4 victory over rival Miami Country Day.
"The moment we knew we won the game we all threw our gloves in the air and ran to each other and that is a feeling I will never forget," Regueira admitted.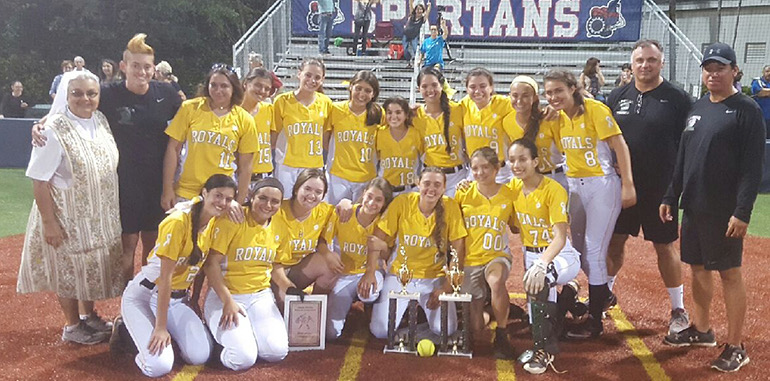 The team was a fun-loving one as well. Sister Clare was among their most vocal supports, often being the loudest one from the dugout itself. The team sported what they called "magical Mardi Gras beads" for game days, and challenged their assistant coach to dye her hair if they won the conference title. After they won in 2017, they colored their coach's hair pink. They even participated in a team-bonding escape room.
In the intervening years since the conference championship, and despite the coaching staff turnover, the softball team maintained it's fun-loving nature.
"No matter what was going on these student-athletes stuck together all season and kept working," said ILS Athletic Director Nick Fernandez. "Their leadership, hard work and dedication is second to none!" Fernandez described them as "such a fun group" and noted he will miss going to their games and watching them play.
Heading into the 2020 season, Fernandez said, "With a talented senior class leading the way, I know the girls are up for the challenge."
"
They are a fun, hard-working, dedicated bunch who often care about the people around them more than they care about themselves. They set an incredible example for other Royal Lion athletes."
— David Fernandez
This core group stuck together and helped the softball continue to compete within the South Florida Conference, as well as the state district.
In their last full season of play, Alex Tsotsos was one of their top hitters. She lead the team with 35 RBI that season, and was second on the team in batting average (.467), on-base percentage (.675) and hits (29). As a senior in 2020, she took over the team lead in batting average (.387), as well as runs scored (13) and hits (12).
As a sophomore, Tsotsos was named to the South Florida Softball Conference's all-conference second team. In 2019, Tsotsos' production earned her a spot on the All-Conference first team. In 2020, she was on-track to earn another All-Conference honor.
"I'm so thankful for all the coaches and teammates I had throughout the years, each coach and each player has impacted my life in different ways," said Tsotsos.
Yasmine Regueira spent her time with the softball primary as the pitcher. In 2019, she registered 56 strikeouts and posted seven wins with a 5.53 ERA. She was also a dominant pitcher as a senior in 2020, although the pitching stats are incomplete. She led the team in 2020 with seven pitching appearances.
In 2017, Regueira earned a spot on the South Florida Softball Conference's All-Conference first team. She followed that with a second-team honor in 2019. This season, it's more than likely Regueira would have returned to the All-Conference first team.
"My teammates are like my sisters we have all been there to pick each other up if we had a bad game and celebrate when we won," said Regueira. "They are my family and have impacted me in so many ways."
As a junior in 2019, Jayleen Peraza led the team in stolen bases (4), and posted a .360 batting average, good for third on the team that season. She was second on the team in runs scored (30) and picked up 12 RBI. As a senior, Peraza's production at the plate continued. She led the team in bases-on-balls (9) and hit .367. She was second on the team in hits (11), runs scored (10) and on-base percentage (.513).
In 2019, Peraza earned a spot on the South Florida Softball Conference's All-Conference second team for her play that season. Her production this season almost ensures that she would've been an All-Conference first team performer in 2020.
Rodriguez-Schack was also a productive member of the team. She registered 14 runs, 14 walks and 13 RBI as a junior. As a senior, she sported a .333 on-base percentage. She was a steady defender and leader. In 2019, Rodriguez-Schack received the Scholar Athlete Award at the SFSC awards ceremony.
"I've had almost a different coach each year here at La Salle and, despite the constant change, each one of them have shaped the person I am today," Rodriguez-Schack said. "Each coach taught me something new and helped build my character. My teammates have brought out the best in me. They are some of the best people I know and I will forever be grateful for them."
Gabriella Piedra was new to the softball program as a senior. "Joining the team as senior it was great to learn from my fellow seniors and enjoy one last thing as a high school student with some of my best friends," she said.
"This was a talented group of seniors," said Mr. David Fernandez, English teacher and former head girls basketball coach at ILS. "I've seen them all around the gym for years, and their hard work paid off with that conference championship. And I saw so much of that same dedication in the classroom, as I taught all five of the seniors this year. They are a fun, hard-working, dedicated bunch who often care about the people around them more than they care about themselves. They set an incredible example for other Royal Lion athletes."
Unfortunately, coronavirus truncated the final season for these seniors. Their final game in 2020 pitted the ILS softball team against Carol City. And they managed to make their final game a dominant victory.
ILS girls softball team picked up the win against their opponent 21-2. Tsotsos led the team by going 4-for-4 with a double and a grand slam home run. Peraza went 4-for-5 with four runs scored. The winning pitcher was Regueira, who only allowed three hits and registered six strikeouts over four innings of work.
Regueira advises future players to play each game like it's your last.
"I didn't get to finish my senior softball season and if I knew that last game was going to be my last I would have done so much differently," she said. "Also, bond with your teammates because in order to win everyone has to be on the same page and make sure you are constantly keeping each other accountable and push each other to be better."
Tsotsos echoed similar sentiments. "Make sure to have fun and make memories with your team," she said.
Rodriguez-Schack sees participating in athletics at ILS an an opportunity, and urges future Royal Lion athletes to cherish each moment.
"I'm quite a shy person so initially I was nervous to join a team of girls that I had never met before," Rodriguez-Schack explained. "But I really connected with the other girls. I would also say that you shouldn't take anything for granted. My last game was my last game and I didn't even know it. Take advantage of the events and cherish each and every game as if it's your last."