New Class of 2020 Mural
On Friday, May 1st, 2020, Immaculata-La Salle High School had a mural spray painted for the graduating senior class of 2020.
The mural was crafted using spray paint by local artist Rigo Leon. He has portrayed his work in various cafes, restaurants, and Miami hotels. In addition, Leon's work can be found in Wynwood, and even in Italy and Cuba!
"I have been a self taught artist for as far back as I can remember," said Leon. "My vision is to leave a positive imprint on the planet and a legacy for my kids to have— one that is bigger than art."
Leon made sure to leave the the graduating class of 2020 legacy for everyone to remember— a goal accomplished. Since Leon used spray paint, the process of completing the mural only took a day and a half.
"The reason for doing the mural was to have something that could remain at ILS throughout 2020," said Sr. Kim, ILS Principal.
"When the Seniors have their 'Senior Parade' around the track after Memorial Weekend to exchange iPads and pick up other graduation items, we will have each of them leave their signature on the wall so when they come to visit ILS during the year, hopefully at Homecoming, they can go to the wall…and feel united as the Class of 2020!"
The seniors have shown tremendous positive feedback from the senior class. Many students, parents, and teachers have been showing their appreciation via email and Instagram comments on @immaculatalasalle.
Senior Isabella Scalese believes the painted wall is extremely meaningful to her class.
"I'm never going to forget it," said Scalese. "It has very special meaning to my fellow classmates and I."
The time and dedication spent painting the mural definitely paid off! It is the very first thing you see when you arrive to the ILS campus. Even though we are fortunate enough to send off our seniors in person, they will always be remembered in La Salle— and the mural makes sure of it.
https://www.instagram.com/tv/B_pmQDdlyb4/?utm_source=ig_web_copy_link
About the Writer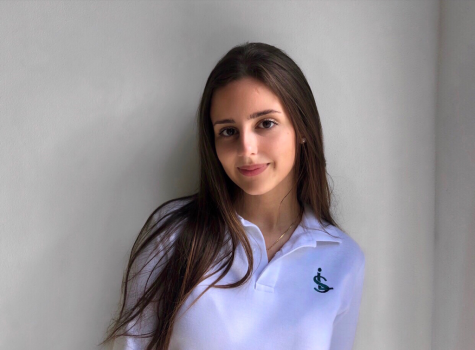 Arianne Cendon-Ruisanchez, Editor



Arianne Cendon-Ruisanchez is a senior at ILS and is enrolled in Journalism 2. Arianne enjoys covering Campus Life and is extremely passionate about working with the Guatemalan-Maya community.