Lots of Changes at ILS, but It's All for the Good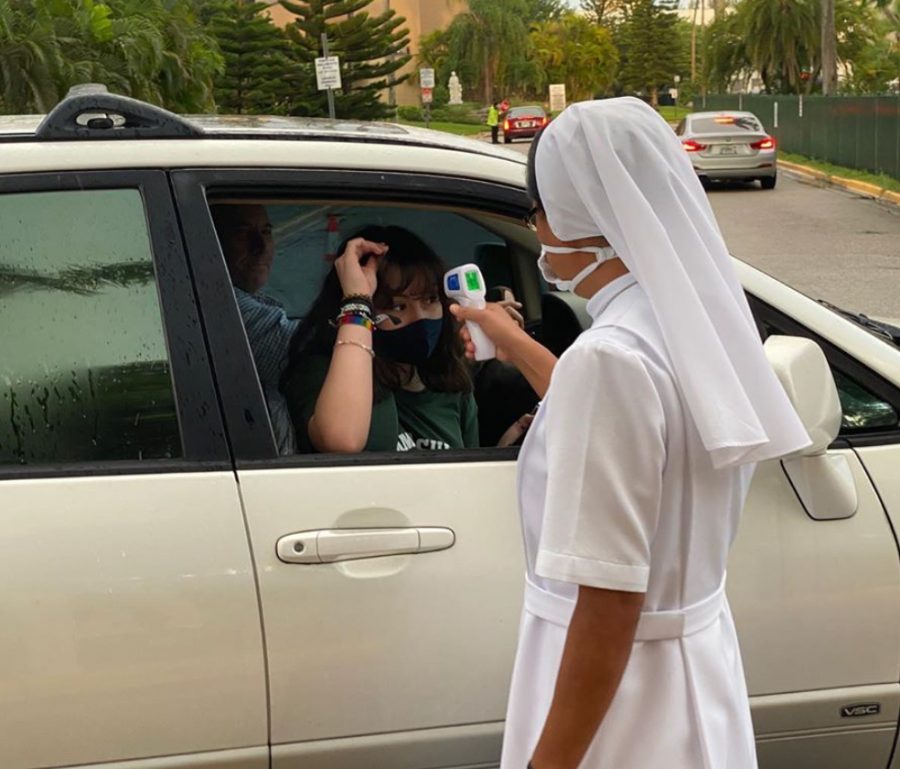 Cycling back soon campus is something many ILS students have been looking forward to for months. The shift to hybrid learning has afford ILS students the opportunity to get back on campus and reconnect with their friends and teachers face-to-face. That move, though, has required significant changes to the "normal" ILS campus life.
It's going be a while before things get back to normal. However, going to school does help, even though quite a few changes have been made to ILS's beloved campus. From temperature checks, automated soap/hand sanitizer dispensers, and designated pathways for moving from building to building, it is definitely going to be a challenge getting used to the"new normal."
"The pathways will require us to practice patience and to be mindful of each other," said Mrs. Lopez-Hernandez, a Theology teacher. "As we await the students' return, I have been practicing and following the green and gold arrows, as well as the signs placed all throughout campus. It will certainly catch on."
ILS has spray painted arrows to the ground to indicate what direction the foot traffic should flow. Each building has designated specific staircases for "up" and "down" movement. A simple trip to the bathroom now requires students to travel around an entire building, but it's all being done with each person's health and well-being in mind.
"It is important for students to follow these routes because the routes were designed to help with social distancing and to maintain the least 2-way 'traffic' as possible. We want to keep everyone safe and healthy!" said Dean of Students Ms. Varese.
It's only been a week, but students have already seen and adjusted to the changes on campus, including in the cafeteria. Students see plexiglass dividers and only four people can sit at any one table. Students have the option to sit outside as well.
"It's important to try your best and be extra aware of what you're doing in order to keep everyone safe," said senior Sofia Farres.
"It's hard to remember to follow these guidelines because in a way you have to go against your instincts, but just keep in mind those teachers and students who are at high risk or living with those who are high risk. School should be a safe place for everyone," Farres explained.
Students who get confused or are uncertain can always as a teacher or staff member what to do or where to go.
"My advice would be to think about where you are going before you leave to go there. We all have plenty of times to get where we need to go, so be cautious, focused and present to your surroundings," said Ms. Varese.
Although it will take some getting used to, and getting on campus may take a little longer given the temperature checks and Safety app surveys, it's all being done in an effort to keep everyone on campus safe and health.
About the Writer
Victoria Sosadias, Writer
Victoria Sosadias is a sophomore at ILS this year and is enrolled in Journalism 1. Victoria enjoys being a part of the ILS Royal Lion Band and making music. She hopes to pursue a career as a musician.