Drama Club 'Twelfth Night' Cast List
On Friday, October 16th, 2020, the ILS Drama Club released its cast list for their fall play production that will be virtual. This year due to COVID-19 drama club decided to perform this year's play virtually. The play announced this year is a adaptation of a Shakespeare classic "Twelfth Night." 
Twelfth Night, or What You Will is a romantic comedy by William Shakespeare, believed to have been written around 1601–1602 as a "Twelfth Night's entertainment" for the close of the Christmas season. The play centres on the twins Viola and Sebastian, who are separated in a shipwreck. Viola (who is disguised as Cesario) falls in love with Duke Orsino, who in turn is in love with Countess Olivia. Upon meeting Viola, Countess Olivia falls in love with her thinking she is a man.
The 2006 film She's the Man modernizes the story as a contemporary teenage comedy (as 10 Things I Hate About You did with The Taming of the Shrew). It starred Amanda Bynes and Channing Tatum, among others. The movie is set in a prep school named Illyria and incorporates the names of the play's major characters.
Earlier in the week, the drama club had hosted callbacks (through a zoom call) for those selected from the audition submitted beforehand. During said callbacks, students from all grade levels were able to read for the roles they were called back for. 
Mrs. Rodriguez, the director and monitor of club, had taken notes during the zoom call and took the next few days to finalize her decision on the cast list. 
Cast List:
VIOLA- Alma Pichardo

 

SEBASTIAN- Pablo Amat
OLIVIA- Ana Lynch
DUKE ORSINO- Robert Taquechel

 

MALVOLIO- Alvaro Amat
SIR TOBEY BELCH- Sophia Rabelo

 

SIR ANDREW- Mercy Cabrera

 

FESTE- Ani Rincon
MARIA- Isabella Baez
ANTONIO- Francjose Lopez
FABIAN- Danna Chalela
VALENTINE- Eliza Lee
CURIO- Cecilia Harding
CAPTAIN/ PRIEST- Victoria Gartner

 

OFFICERS- Gabriella Costa and Isabella Costa
When asking lead, senior Alma Pichardo, whether she was excited or nervous to play the lead role viola she said:
"Definitely a mix of both. It's obviously very exciting and means a lot to me because I've been in the drama club and every production since freshman year. But it's also nerve racking to be doing something new and challenging, especially with the circumstances for this years play."
Everyone apart of this years production is very excited to take on the challenge for putting on the show virtually. Rehearsals begin this week, let's wish our thespians a good luck! 
About the Writer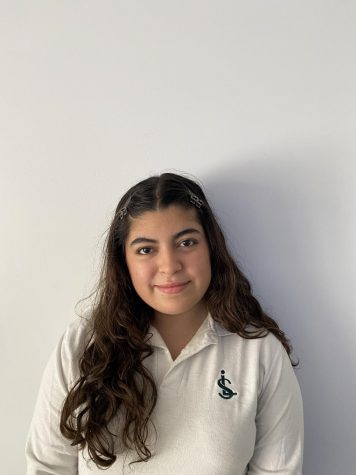 Sophia Rabelo, Writer



Sophia Rabelo is a senior at ILS this year and is enrolled in Journalism II. Sophia enjoys participating in the school's drama program and enjoys covering its events and news.