As Election Day Nears, ILS Royals Ready to Vote, Volunteer
November 3 is the official Election Day for the U.S. in 2020. This is arguably going to be the most impactful election in the country's history to date, and many of our Royal Lions are now eligible to vote! 
To vote, a person must be a U.S. citizen and at least 18 years old. Voters in Miami this year get to vote for the President and Vice President of the United States, as well as for Representatives in Congress, State Senators, State Representatives, Clerk of the Circuit Courts, Justices and Judges, County Commissioner, Miami-Dade Mayor, School Board Members, and State Constitutional Amendments.
Before you can vote, you have to make sure you are registered to do so by checking your voter status. Also, make sure to research everything that you will be voting for using multiple different sources to ensure you get the most impartial view of what is up for election.
Florida voters this year have the option to vote by mail, on Election Day, or at Early Voting Sites before Election Day. 
The deadline for requesting a mail-in ballot has already passed, but there is no need to worry. Despite coronavirus concerns, poll locations are working hard to ensure the safety of all voters. 
Masks are mandatory at all poll locations and social distancing is heavily enforced. There is no reason to withhold from voting this year due to the pandemic. 
Early voting has been open since October 19th and will remain open until November 1st. Click here for a list of early voting sites in Miami-Dade County. Polls are open from 7 AM to 7 PM. 
If you can't make it to early voting, make sure to go out to the polls on Election Day to have your voice heard. Many of our 18-year-old ILS students are definitely planning on doing so! 
"I'm voting in this years election. I'm preparing to do so by printing out a sample ballot and reading all of the amendments and candidates that I have to vote for," said senior Camila Mendoza. 
Mendoza believes it is extremely important for everyone eligible to cast their vote not only in this election, but in every election to come. 
"I think it's important to vote because not only is it our civic duty to vote, but a lot of people have fought for this right throughout our history," said Mendoza. 
"We can't ignore or just take this for granted. It's only been 100 years since women have been able to vote. I feel the need to vote for people who don't have the ability to vote, or whose lives depend on it," she continued. 
Mendoza is also going above and beyond this year to fulfill her civic duty by not only participating in this election, but volunteering her time to make a difference. 
"In addition to voting, I also am a registered poll worker and plan to work the polls on November 2nd and 3rd," said Mendoza. 
Since many of the people who'd work the polls in previous elections that were of older age can't volunteer this year due to being high risk for the coronavirus, teens like Mendoza who have decided to step up are really helping the country in a time of great need. 
"For the people who are voting: I highly suggest voting early, because of COVID-19, so that way you can feel the patriotism of submitting a ballot at the polls, but while maintaining social distancing. Also, please fill out a sample ballot beforehand. It makes the process go faster for the poll workers and by doing so, you get to fully research each amendment and candidate," said Mendoza. 
While many are now eligible to vote, the majority of ILS students are eager to have their voices heard, but are still under the age of 18, thus ineligible to cast their vote. 
"I miss voting this year by four days, which is extremely disappointing," said senior Meghan Swan. 
"I am still watching all the debates, watching the news, and trying to keep myself informed. I think it's extremely important for us to educate ourselves on all matters regarding the election because whether you can vote or not, it's still something that affects you," she continued. 
Whether or not you can vote in this election, high school is the time where you start to learn and discover more about your political beliefs. Staying educated and informed on political matters during this election season will only help you in the long run. 
If you can vote, research everything that will be on the ballot and have your voice heard. Make sure you are well-informed and that you vote according to your own beliefs for each candidate and amendment. 
Do it for those who can't and wish they could, and remember that the consequences of this election will be major and will directly affect you as a citizen of this country. 
About the Writer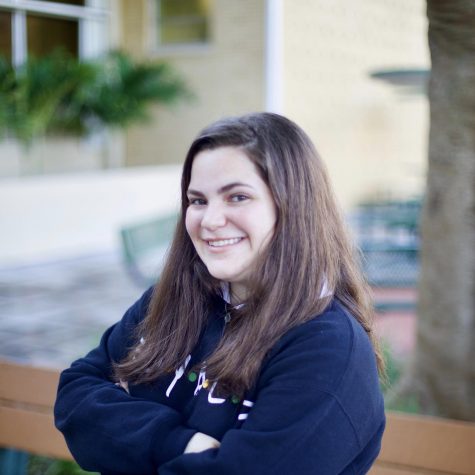 Sofia Farres, Editor-in-Chief



Sofia Farres is a senior at ILS this year and is enrolled in Journalism 2. Sofia enjoys participating in ILS service clubs and student government and hopes to pursue journalism and film in the future.