New COVID Travel Procedures Now in Place at ILS
The Archdiocese of Miami has developed a new protocol in regards to traveling outside of South Florida to ensure safety as COVID-19 cases are on the rise this holiday season. 
They have created a form that both students and employees must use when they travel outside of Dade, Broward, or Monroe County. Everyone was emailed the form via their ILS emails and if traveling, they must fill out the top portion of the form, sign it and email it back to Dean of Students and COVID-19 Coordinator for ILS, Ms. Varese before they leave. 
Upon their return, they must fill out the rest of the form, providing details about their trip. This must be completed and emailed to Ms. Varese before returning to campus. 
The school will be using the information to determine whether or not extra precautions are necessary. They may require a quarantine until a negative PCR test result is received. 
"Please email me if you have any questions," said Ms. Varese. "We thank you for your continued vigilance in supporting all of our efforts to keep our campus safe and healthy." 
ILS has been working extremely hard to ensure that all students and employees remain safe during these difficult times. So much so that when it was made known that an employee tested positive for COVID-19, immediate action was taken. 
The employee, who will remain unnamed for privacy reasons, became infected after coming in contact with an outside source that has no affiliation with ILS. 
"We are confident that none of the students had any credible exposure," said ILS Principal Sr. Kim Keraitis. "Employees who have been identified as having a "close contact" with said employee have already been notified and will continue to quarantine."
They advised all families about the situation in an email sent last week in order to maintain open and honest communication, however no personal or specific information about any employees can be shared, as the matter is confidential. 
The school is continuing to thoroughly clean and disinfect throughout the day and in the afternoons. They have hired a cleaning company that uses an electrostatic machine to spray all surfaces with VIREX. 
All classrooms remain set up to ensure social distancing guidelines set up by the CDC are being followed. 
"We continue to ask that students and employees, who may be experiencing any symptoms, to stay home. Anyone waiting for COVID-19 test results or living with anyone waiting for COVID-19 test results should also stay home," said Sr. Kim Keraitis. 
With the combined effort of students, faculty, staff and administration, ILS is getting through the pandemic successfully and hopefully soon, everything will begin going back to normal! 
About the Writer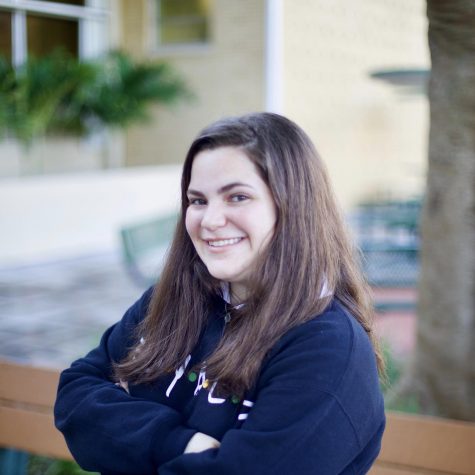 Sofia Farres, Editor-in-Chief



Sofia Farres is a senior at ILS this year and is enrolled in Journalism 2. Sofia enjoys participating in ILS service clubs and student government and hopes to pursue journalism and film in the future.