ILS Boys Basketball Preps For Districts
The countdown is on for the ILS Boys' Basketball team, as district playoffs approach, and a plan for victory looms.
The Royal Lions (2-11) haven't had an ideal season. They've lost eight games by less than 11 points, losing leads late in the game, failing to overcome deficits and even falling at the buzzer. But as what truly matter nears, they've put those issues aside and have continued to worry about what's next.
"We can't let those skids impede our goals," junior Eric Islami said. "We know what we care about."
ILS entered last week with a goal in mind: defeat Miami Sunset. The team that eliminated them from the playoffs last year, the Knights were ranked No. 1 in the district coming in, so taking them down would be meaningful.
That said, a 29-point outing from senior Emilio Ramirez and nine points from junior Giorgio Saumat were enough to give the Lions a 60-48 win at home. It was the lowest scoring total ILS had held a team to all season, and their 3-PT shooting helped seal the deal.
"Locking down early on was vital for our success," said captain senior Wael Harb. "We found a way to be amped up, and that needs to carry on."
Ramirez (17.1 PPG) and junior Delvin Espinoza (13.4 PPG) have lead the way on the scoring end, while Ramirez (1.9 APG) continues to facilitate and Michael Yero (5.3 RPG) crashes inside. That triad has been relied on heavily through the course of the season, along with the contributions of junior Brett Gurka (6.8 PPG), Saumat (5.6 PPG), sophomore Ivan Zivenko (3.8 PPG) and senior Anthony Yero (50% 3-PT).
Now, as the 4A district 16 playoffs will begin in early February, the Lions are in line to play any team in the opening round, ranging from Key West (10-6), Keys Gate (4-7), Sunset (8-5), St. Brendan (12-9) or Gulliver Prep (4-7).
At least one thing's for sure: ILS has the abilities to compete this time around, and that's the mentality coming in.
About the Contributor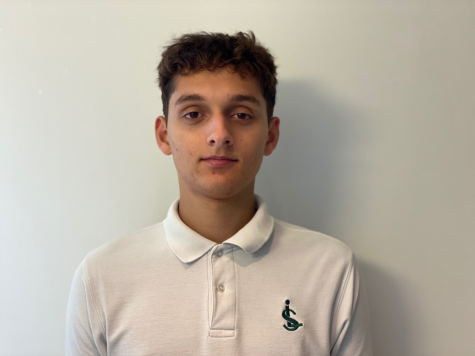 Michael Yero, Writer
Michael Yero is a Senior at ILS and is enrolled in Journalism 1. A varsity basketball player, Michael enjoys writing about sports and sharing people's stories.