The Weeknd Super Bowl Half Time Show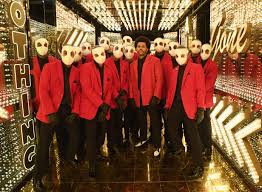 On February 7, The Weeknd performed during halftime of Super Bowl LV. This Grammy-winning singer joined a long line of popular musical acts to perform at the NFL's championship game. This performance is a coveted spot for entertainers because millions of people watch the Super Bowl, even those who aren't necessarily football fans. 
Following Miley Cyrus' pre-game performance, the Weeknd took center stage. The Weeknd performed some of his major hits like "Call Out My Name," "Starboy," "The Hills," and many more. 
As the performance started, the audience saw The Weeknd sitting in a car. Then the camera panned out and we saw the incredible background of the city. The Weeknd goes on to sing his greatest hits and dance around the stage. He even goes as far as in the back of the stage where it is not visible to the crowd. 
Backstage was decorated in mirrors and lights, and we see The Weeknd holding a camera and dancing around backstage. 
He also dances with the rest of the dancers as they are dressed in red and black suits with bandages all over their faces, to represent beauty standards.
They ended up making their way down to the football field where they gave an awesome dance routine. The Weeknd gave an incredible performance as he was dancing, singing, and overall just having a great time. 
Last year, the Super Bowl halftime show, performed here in Miami, featured Shakira and Jennifer Lopez as the main acts, with guest appearances by Bad Bunny and J Balvin. This year, The Weeknd didn't include any other guest performances.
Some people online didn't think the performance was entertaining, but many ILS students enjoyed it.
"I liked the performance! I thought it was really good considering everything that's been going on with covid. You could tell that The Weeknd put a lot of work into it and it was very lovely," said senior Sofia Farres.
Sophomore Alessandra Merino thought the performance was good. "I like how he hired so many people and used his own money for this performance. He also has a lot of different songs and he was able to sing and perform them well," she said.  
Sophomore Carolina Ruiz says, " Personally, I liked the Super Bowl half time show with The Weeknd."
The Weeknd gave an outstanding performance in spite of the pandemic. It was a great half time show to a Covid Super Bowl!
About the Writer
Olga Cortes, Writer
Olga Cortes is a sophomore at ILS this year and is enrolled in Journalism 1. Olga enjoys sports and is excited for another year in the ILS family.