LTV Presidency Shocking Victor, Michael Yero
Last month, seniors Charlize Ramos and Michael Yero created a comical LTV segment to bring a lighthearted view to the presidential inauguration.
The first episode of the comedy sketch was an introduction to both 'candidates' introduction videos. Both seniors were running to be the LTV president of 2021.
Michael Yero, part of the Final Cut Pro party, was running for LTV President because he wanted to "Make LTV Great Again." He promised to improve the segments that are aired and to help the show created great segments.
"Being able to show unity during the inauguration segment was vital, as we ultimately promoted unity instead of division. We still have some ideas in mind for the last semester, but that has to be the best by far," said Yero.
Charlize Ramos, part of the iMovie party, was running for LTV President because she wanted to better the segments and help the other LTV student produce the best content they possibly could.
Ramos stated: "My favorite part of the series was being able to be super creative, but also follow the current events that were happening and also work with Michael on this project we both thought was very unique and funny."
The following episode was the two candidates debating on LTV issues, such as what they would do to improve the 10:40 am show and other ways to add onto the show to make it more interesting for the ILS community.
"We chose to bring this segment to correlate with relevant news going on in the world." Michael said. "Charlize and I wanted to find an entertaining way to keep students engaged with not just LTV, but with what's going on outside campus."
Shortly after the debate, LTV released a poll where students had the option to vote for Michael Yero for President and his Vice President Bianca Sanz or Charlize Ramos for President and her Vice President Ivanna Major.
The victor was Michael Yero but Charlize said, as a reference to Trump wanted a recount, that she demanded a recount and that there was fake votes from the polls.
In the final episode, Michael and Charlie came together via phone call and announced that they'll be coming together, with Ramos becoming Yero's Vice President.
Ramos final statement was "I want students to take away that there's so many current events that are going on in our world today and it's super important to always know what's going on."
About the Writer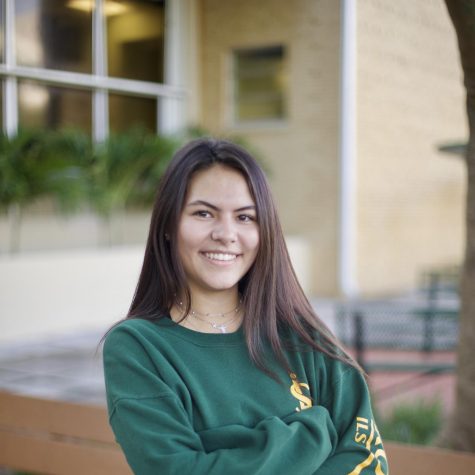 Bianca Sanz, Writer



Bianca Sanz is a senior at ILS this year and is enrolled in Journalism 2. Bianca enjoys fashion and videography. She also loves writing about entertainment.