ILS Basketball's Playoff Push Ended By COVID-19
The Immaculata-LaSalle boys' basketball team's run at a regional championship came to an end before they could even step foot on the court.
ILS was scheduled to take on North Miami Beach in the regional quarterfinal on Thursday. However, multiple positive COVID-19 tests have forced the team to quarantine and put an end to their season.
"The season being shut down hurt because our team had finally gotten into a rhythm, and it's not like we got knocked out and lost," head coach Derrick De La Grana said. "Not being able to play the actual game hurts because I know we had a chance to win."
The Royal Lions, which hadn't dealt with a COVID-19 outbreak during the regular season, competed in the Class 4A District tournament last week. ILS played three games in four days, which could have put them at risk.
ILS's playoff run marked the first time they had reached the district title game since 2012. They came in as the lowest-seeded team at No. 6, and still notched big victories over rival No. 3 Gulliver Prep (58-39) in the quarterfinal on February 9 and No. 2 Key West (76-57) in the semifinal on February 10. The championship game featured a packed crowd and relentless back-and-forth action, but the Royal Lions fell 57-55 in overtime to Miami Sunset.
"I was very happy with how we played in the district tournament," De La Grana said. "Being the last seed, nobody expected us to make the championship game. I knew that if we locked in mentally that we'd be able to prove everyone wrong and we did that."
Regardless of the outcome in the district tournament, ILS was presented with an opportunity to make a push at a regional title, which hasn't been done in school history. The last time they reached the regional final was in 2009, falling to Pine Crest.
"We had a really good practice on Monday and we were prepared to take on North Miami Beach," senior Wael Harb said. "All we needed to do was beat NMB and we would've had a potential rematch with Sunset in the semis if they would've won their quarterfinal game. Then we would've been in the regional championship."
Due to the Florida High School Athletic Association's guidelines, Miami Edison, who played ILS on February 12, is also being forced to cancel their Class 4A regional quarterfinal game on Thursday due to COVID-19 contact tracing.
The Royal Lions finished the season 5-12 with a 3-2 record against district opponents. The abrupt ending also closes the high school playing careers of seniors Emilio Ramirez, Anthony Yero, Michael Yero and Harb.
Ramirez, who averaged 20.4 points per game in the regular season and 27.3 points in the playoffs, looks to play basketball at the next level and is appreciative of his four-years as a Royal Lion.
"This season really meant a lot to me," Ramirez said. "I know if we had the chance, we would've brought home a regional banner. Nonetheless, I'm grateful for the opportunity to have even had a season."
About the Writer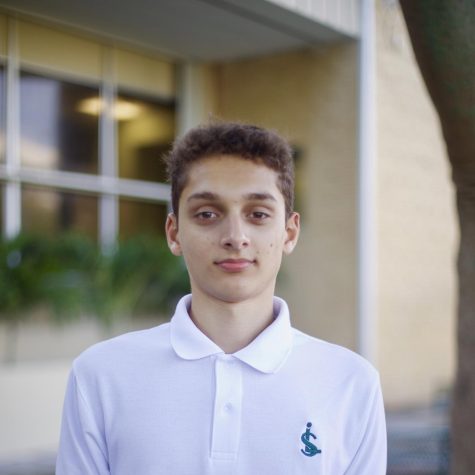 Anthony Yero, Co-Editor-in-Chief



Anthony Yero is a senior at ILS and is enrolled in Journalism 3. Anthony enjoys covering the Sports beat for the "Royal Courier" and looks forward to a career in journalism.