Safety First: ILS Issued Hoodies Are A Huge Step In The Right Direction, But Don't Expect More
Dress code is something that faculty at Immaculata-La Salle High School take seriously each and every day. And if one article of clothing in specific has caused a lot of controversy, it's the hoodies.
But on January 22, the student body was surprised by Ms. Varese's email introduction of the ILS approved, school-issued hoodie. In their first design, the school kept it simple: a black hoodie with a gold illustration of the school's Royal Lion and the text 'ILS'.
To nobody's surprise, the hoodie received whopping demand — although it's $35.00 price tag isn't very friendly. So much so that the school's first batch sold out, and they've restocked and since began to sell more.
In retrospect, I was surprised by the school's decision. It marked the first time we'd see students at school with a hoodie on, something I've personally done in years past, but have been met with demerits. For years, students have requested for members of student government to ask faculty members for hoodies to be allowed. And of the best things to come out of this new hoodie, it's that the school is open to listening.
However, the school has made it clear, that only that hoodie may be worn during the school day.
I sensed that many students would remain unsatisfied, and indeed they were. The price wasn't necessarily a bargain, and students still wanted to wear their Nike, Adidas, Supreme and Off White hoodies on dress down days.
As my brain wondered in class about why this hoodie and not the others, I reached out to Ms. Varese to express my thoughts and to understand why it made sense to pioneer this hoodie.
In the end, though, the school had its reasoning.
Security.
It's not about hoodies not being Ms. Varese's favorite attire, it's about keeping the ILS community safe. We've all witnessed the terrors that have unfolded at schools in our country in past years, and the school wants to do everything in its will to prevent that at ILS. 
ILS already has 24 hour security around the campus, and during school days, numerous police officers stand outside to examine the vicinity and to provide safety. Now, Picture over 1,000 students showing up to school with a hood over their head. From a safety and security standpoint, that doesn't make sense. Just like you can't be on campus without some sort of identification, whether it's your ID badge or a sticker, a hoodie could very well be an infraction in the schools identification process. A person with a hood over their head makes them nearly impossible to recognize on the school's security camera system.
While the idea of allowing all hoodies at ILS would be during dress down days, the circumstances are different for the ILS hoodie. It's uniform, which means we can wear it Monday through Friday with no concerns of being written up.
A common misconception is that ILS is the only school with these policies. However, every single private catholic high school in Miami —Carrollton School, Belen Jesuit, Christopher Columbus High, Lourdes Academy and St. Brendan amongst others — have a no hoodie policy.
Allowing students to wear a single black hoodie with an ILS logo on it provides comfort for students, especially during a time where Miami has reached 50 degrees. In addition, the sense of well-being and protection on the school remains the same . The odds of an outsider coming into the school with a ILS hoodie on are extremely low.
ILS wants to ensure the safety, security and protection for all of its students and faculty members. And if that means not being able to wear a hoodie, I'm all for it.
About the Writer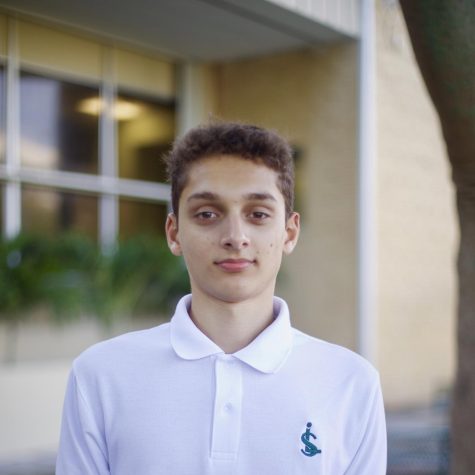 Anthony Yero, Co-Editor-in-Chief



Anthony Yero is a senior at ILS and is enrolled in Journalism 3. Anthony enjoys covering the Sports beat for the "Royal Courier" and looks forward to a career in journalism.