ILS Helps The Bahamas After Hurricane Dorian
On September 6, 2019, students from ILS aided in collecting and packaging boxes of donations at Greater St. Paul church for the people of the Bahamas who were deeply affected by Hurricane Dorian. 
Hurricane Dorian was a category five hurricane that left nothing but destruction in the Bahamas. 
This powerful storm caused homes on the island chain to be torn apart, leaving families without shelter. The streets flooded, which resulted in the contamination of the water, causing people to have a limited supply of drinkable water. 
After seeing this horrific event occur to such a beautiful place, the ILS community took action by emailing Sister Kim Keraitis asking to help donate supplies and money to the Bahamas. Sister Kim willingly allowed students of ILS to bring in gallons of water, blankets, clothes, food, baby formula, and other necessities to give to the Bahamas.
A few students, teachers, and parents showed their Salesian spirit by assisting in putting the donations into boxes and loading them into a truck for the Bahamas Consulate, who then delivers the boxes to the Bahamas. Among those representing ILS were including Mrs. Ana Roman-Gonzalez, freshman Elio Gonzalez, the Amat brothers–Pablo and Alvaro, and the Callaghan brothers–Justin and Mitchell. 
The boxes and supplies were transferred through a larger local organization. Sister Suzanne Dauwalter would agree that it is imperative that the boxes actually arrive to their destinations. 
"I believe we have a company already that has brought things in there successfully," Sister Suzanne explained. "That's important, you don't want to get to just any organization. It has to be an organization that's well established, and that you know is going to get the materials in there because it's not easy, believe it or not, it sounds easy to get things in but it's not."
Additionally, Sister Sue believes that it is important to share our blessings with those affected in the Bahamas. 
"Why wouldn't anyone want to help the Bahamas? They're desperate for help, and it is our Christian duty. We are called to help them and we are very blessed, therefore we have to share our blessings," said Sister Sue. 
Sophomore Alvaro Amat wanted to lend a helping hand to the Bahamas to show his spirit and love for his ILS community. 
"Our community loves to help people out and that's just the spirit," said Alvaro. 
The Bahamas is in need of the ILS community's support. Thankfully, ILS is always willing to show its Salesian way of helping others.
On Friday September 20, 2019, there will be another opportunity for students to assist in packaging and loading donations in the trucks to send to the Bahamas. As Don Bosco said, "Let us carry our crosses with love; let us see that they do not become a burden to others, but let us help others carry theirs."
About the Writer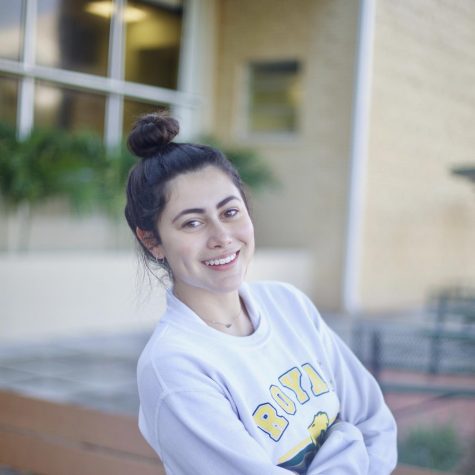 Ella Perez, Writer
Ella Perez is a senior at ILS and in the class Journalism 1. Ella loves dancing for the Lionettes and enjoys covering the Entertainment beat.