As Easy As 3.14159…A Successful Pi Day!
On March 13th, 2021, the Math Honor Society, Mu Alpha Theta, celebrated Pi Day by hosting fun activities for the student body partake in during C Block lunch, in all three lunches!
March 14th is just an ordinary day to come people, but not to members of the Math Honor Society. To them it is Pi Day, a day when they can get everyone excited about the number 3.141592 (and so on).
In their special event, you could pie any math teacher you want (they were peeking their head out of a cut out board) or you could have bought a slice of or an entire pie.
To pie a teacher, it cost $20; to get a slice of pie, it cost $1; to buy a whole pie, it cost $5. They were only accepting cash!
This was a huge fundraiser for the Mu Alpha Theta, especially for the travel teams to go compete in states in Orlando.
It was definitely a successful event as they raised approximately $800 altogether, one of their best Pi Days in recent years!
Various teachers from the math department left lunch with a face full of pie and a full stomach, but it was certain to say that Ms. Cannon and Mr. Jude got pied the most this year.
Some teachers weren't able to make it as often but they definitely led the fundraiser this year so we are extremely appreciative with their willingness to be constantly covered in whipped cream.
President of Mu Alpha Theta Beatriz Diez had a great time hosting and participating in the fundraiser.
"My favorite part of the event has to be when I got pied with my Vice President, Ana Ulivi. It's a tradition for the moderators to pie the president and sometimes Vice President so it was nice to be able to continue that as the leaders this year," said Diez.
Although not many student were physically on campus to contribute and participate in the event due to Covid-19 safety precautions, Mu Alpha Theta was still able to have a wonderful time and achieve their goal!
Pi Day is the day when everyone raves ecstatically to the breezeway to get the first slice of pie. With all the different pies to choose from, there was something for everyone.
It was a great celebratory time for everyone!
About the Writer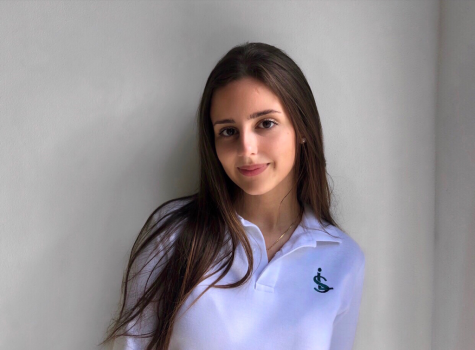 Arianne Cendon-Ruisanchez, Editor



Arianne Cendon-Ruisanchez is a senior at ILS and is enrolled in Journalism 2. Arianne enjoys covering Campus Life and is extremely passionate about working with the Guatemalan-Maya community.