2021 Grammy Performances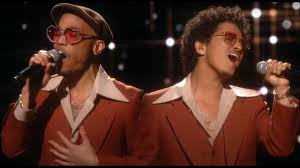 On March 14, the annual 63rd Grammys were held in Los Angeles, California. The award show and performances were all Covid-19 safe.
Starting the show was none other than Harry Styles. He performed his hit, "Watermelon Sugar" accompanied by Devonte Haynes and backup singers. The performance, in regards to theatrics, was fairly simple but tasteful. 
The entire performance was Styles singing and dancing around on stage with the band members or talented backup singers. 
https://www.youtube.com/watch?v=teoHWCMnpFE
Following Styles is the famous brother/sister duo, Billie Eilish and FINNEAS. They performed  "everything i wanted." The performance was simple but the vocals were extraordinary. 
Most of the performance was Eilish standing on the hood of a car while FINNEAS was playing the piano and Andrew Marshall on the drums. 
https://www.youtube.com/watch?v=aVAKT9UxJMI
HAIM is up next! This band of sisters closed the opening segment of the show with their hit, "The Steps."
The effortless performance was led by singer and drummer Danielle Haims, while Este Haims and Alana Haims played the bass and guitar. 
https://www.youtube.com/watch?v=esJ-y9n2uno
Black Pumas took center stage with "Colors." The band gave an amazing performance with this hit song.
The lead singer, Eric Burton, gave it his all in this soulful performance. With the help of lead guitarist Adrian Quesada and the rest of the band, the performance was enhanced and gave the audience at home a fun performance.
https://www.youtube.com/watch?v=9pv99NXcpRU
DaBaby follows Black Pumas. He performs "ROCKSTAR," and brings Roddy Rich up on stage to perform the hit single. 
The performance followed DaBaby, Anthony Hamilton, a violinist, and a choir singing the hit. During the performance, Roddy Rich popped into the performance and gave it an edge.
https://www.youtube.com/watch?v=bEe2ohaO8BA
Following DaBaby and Roddy Rich were another duo. Bad Bunny and Jhay Cortez took center stage singing, "DAKITI."
The pair were singing and dancing all around a neon eye-like structure. The neon lights gave the performance a more fun and dance party element.
https://www.youtube.com/watch?v=e4GXn8kN5-s
Next, is Dua Lipa singing her top hits, " Levitating" and " Don't Start Now." During "Levitating," rapper DaBaby was bright back on stage to help her with the performance. 
During her two songs, Dua Lipa was singing and dancing along with her dancers. She was dancing and singing all over the place!
https://www.youtube.com/watch?v=vFWv44Z4Jhk
Silk Sonic, Bruno Mars, and Anderson .Paak followed Dua Lipa. They sang their debut song, "Leave The Door Open."
The simple yet classic performance showed the audience how powerful voices can be. The two had no intricate props. They had themselves and their backup singers on vocals. They also had a backdrop that flickered like stars. 
https://www.youtube.com/watch?v=vFWv44Z4Jhk
Following the effortless performance were Taylor Swift, Aaron Dessner, and Jack Antonoff. They performed the hit songs, "cardigan," "august," and "willow" from Taylor's latest albums, "evermore" and "folklore." 
The performance was ethereal. The scenery was like they were living in a forest.
https://www.youtube.com/watch?v=Uzii44SDYFA
After this performance was the "In Memoriam" segment. This included multiple different singers dedicating songs to multiple singers who have passed away in the previous year. 
After the Memoriam segment, Mickey Guyton took the stage. The country singer performed her hit, "Black Like Me."
Guyton was seen center stage and gave an effortless performance of her hit. You can tell that she sang from the heart. 
https://www.youtube.com/watch?v=zPH9hgKSai8
Following Guyton was Miranda Lambert. She sang hit song, "Bluebird." 
Similar to Mickey Guyton's performance, Miranda Lambert stood on stage and sang her heart out.
https://www.youtube.com/watch?v=lN_bfd8qV2k
Marren Morris and John Mayer soon performed after. The duo performed, "The Bones."
The simple performance was amazing. You can tell that they practiced hard.
https://www.youtube.com/watch?v=T-muu0O4oJ0
Following Morris and Mayer was Megan Thee Stallion. For her Grammy debut, she performed her hit songs, "Body," and "Savage."
She sang and danced her heart out. She performed with her backup dancers and seemed to be having a great time doing so.
After Megan Thee Stallion was the one and only Cardi B. She brought back Megan Thee Stallion to perform their hit, "WAP."
It is safe to say that the performance was extravagant. It was extra and crazy flamboyant.
Next was Post Malone. He performed "Hollywood's Bleeding."
The stage was all dark and he performed his song with fog and backup singers.
https://www.youtube.com/watch?v=nNBDjJosK74
Lil Baby was up next. He performed his song, "The Bigger Picture." The performance was also assisted by Killer Mike.
The performance was clearly impactful. The performance showed a light on the recent killings by the police force.
https://www.youtube.com/watch?v=zK3PQ_KY_0s
Doja Cat performed her hit song, "Say So." The performance was full of life. Doja Cat was seen performing the famous TikTok dance that was made for the song. 
https://www.youtube.com/watch?v=bHEo4jQp7iw 
Next is BTS. BTS performed their smashing hit, "Dynamite." They gave a great performance while singing and dancing. Since they were not able to actually attend the Grammy's, they gave a performance from their own home. 
https://www.youtube.com/watch?v=vp2vYwuH9-M
Lastly was Roddy Ricch. He performed his hits, "Heartless" and "The Box." He came back to the stage for one last performance. It included a full band.
https://www.youtube.com/watch?v=LwOOHqYqGTQ
There was also a premiere ceremony which was to tribute Marvin Gaye's "Mercy, Mercy Me (The Ecology)."
ILS students seem to like the performances.
Sophomore Mariette Manso said, "My favorite performance was Harry Style's performance. It was my favorite performance because I thought that it was something unique to the Grammys."
Personally, I liked Silk Sonic's performance. It was a refreshing performance. It was not too flashy but not too dull.
These performances were very great and were refreshing to see people having fun during these troubling times. 
About the Writer
Olga Cortes, Writer
Olga Cortes is a sophomore at ILS this year and is enrolled in Journalism 1. Olga enjoys sports and is excited for another year in the ILS family.