Last Days of March Madness making a Bang
Continuing with the March Madness events, starting off the second half is the Sophomores with Spy Week and the final week of Seniors with The Royal Vault.
Last week, the sophomores hosted Spy Week. The schedule (March 15-19) for the week was:
Mission Monday
Students were allowed to dress like a undercover spy (leather jackets, black or white tees, cool shades, ties, etc). Some activities include spy toons played in lunch, and solving riddles all around the school.
Imposter Tuesday
Students were allowed to dress like among us characters (in a fully color and props used in the game). The activity for the day was Among Us game played during F block.
Neutral Wednesday
Although it was a virtual day, students enjoyed a fun spy video in the morning explaining the last two days activities.
Now you SEE me, Now you DON'T Thursday
Students had to try to stay hidden by wearing camp clothes and accessories. The activities included spy toons played at lunch again and trying to solve more riddles.
Friday's Escape
For the last day, students dressed like among us characters (in a full color and props used in the game). The final activity had Pink Panther played during lunch and an escape room activity during F block.
Throughout the week, students were invited to find the most among us characters around the campus. When you find an among us character around campus, you are to take a picture and post it on your grades showbie group. The grade that found the most characters will receive a secret surprise from the sophomore class.
"I think the sophomores did a fantastic job in their efforts to make Spy Week as fun as possible," said senior Ana Marrero.
For the last week of March Madness the seniors will be hosting The Royal Vault. The Senior SGA brought back some theme days from homecoming to let the seniors who missed the days experience it. The schedule for the week will be:
Tuesday: Through the Ages
On Monday students had no school but Tuesday was Through the Ages. Every grade dresses according to the age assigned; Freshman are babies, Sophomores are Ghosts, Juniors are College Sweaters, Seniors are Senior Citizens, and Faculty are ILS Students.
Wednesday: Game Day
Students are allowed to dress in sport attire and games will take place after school from 1:30-2:00pm after school. Freshman will be allowed to play soccer in the main track, Sophomores will be allowed to play volleyball in the practice field, Juniors will be allowed to play capture the flag, frisbee, and spike ball in the main field, Seniors will be allowed to play kickball on the practice field., and Faculty are welcomed to join any of the class levels for games.
Each grade level can have up to 20 members representing their class and participants will rotate allowing for all volunteers to have a chance to play. All classes may have a cheering section.
Thursday: ILS Spirit Day- On Mission
We will be having mass on Thursday but students are still invited to wear their class colors. At the end of the day, there will be a friendly grade level competition.
Friday: Bright Futures
Students are invited to dress up as what they envision as their future profession. Some examples given were teacher, doctor, chef, etc.
"I want my classmates to take away fun memories but also remember the bond that we share with not only just our class but the entire school and how this all is a very special place where we can always have fun no matter the day," said senior and ILS SGA President Charlize Ramos.
Please enjoy the last week of March Madness and remember to stay safe and have fun!
About the Writer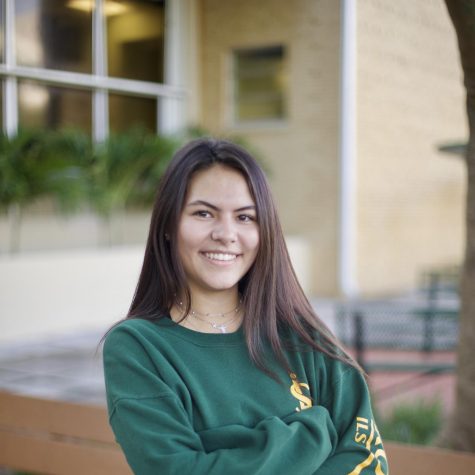 Bianca Sanz, Writer



Bianca Sanz is a senior at ILS this year and is enrolled in Journalism 2. Bianca enjoys fashion and videography. She also loves writing about entertainment.