Sarah Everard's Murder Sparks Concern Among Women All Over the World
On March 3 at 9 pm in South London, Sarah Everard (33) was walking home alone from a friend's house and was murdered despite the fact that she was on the phone with her boyfriend and only walked down well-lit streets. 
Wayne Couzens, 48-year old police officer, was charged with her kidnapping and murder on March 12th. 
Everard's death sparked a massive movement among women in the U.K. that has now spread all over the world.  
Women have been trained since the beginning of their lives to be more vigilant and hyper aware of their surroundings because incidents like Everard's are unfortunately not rare. 
Women everywhere are incredibly frustrated and sick of constantly feeling unsafe when they are doing normal things that are perfectly safe for men to do, such as walking home alone. 
When asked about their feelings towards Everard's murder, ILS female students expressed that the fear they've felt their entire lives is now incredibly magnified. 
"Disgusting, revolting, nauseating, overall depressing, but not surprising. Expected even. She is the living proof that every woman's worst fear is competently possible and real," said senior Layla San Miguel. 
San Miguel has had many experiences walking alone as a young woman in a large city and they have all made her fear for her safety and her life.  
"It's horrifying. Genuinely. [Walking alone] makes me feel like I could be taken or touched at any moment. I like to pretend I'm this powerful confident woman when I walk around. I grew up in New York, riding the subway alone before I can ever remember; but the second it's dark out, or I'm alone and a man walks past me, I feel every part of my body tense up," said San Miguel. 
"I prepare myself physically for a struggle, and I prepare myself mentally to be able to fight someone. It's not fun. I'm not overreacting, and I'm not being dramatic. The things I've heard from my friends and the things I've heard yelled at me from across the street? That's enough to make anyone scared," she continued. 
San Miguel is not alone in her fear. Senior Emma Obregon also had similar sentiments when speaking about her experiences as a young woman who has lived in both Miami and Guatemala. 
"It seems as though my parents had to provide unusual training not necessary for the men in my family. Essentially, I have grown up assuming I am not safe wherever I go. Keys between my knuckles, parking near lights, texting multiple friends where I am going, looking around the area to make sure no one is lurking… and the list goes on," said Obregon. 
"I never really feel safe if I am not in the company of loved ones, and the reason may be that without anyone to vouch for me, no one would respect my life, just like it happened to Sarah," she continued. 
ILS female students were also incredibly alarmed not only by her murder in general, but by the fact that her murderer was a policeman. 
"When I heard about what happened to Sarah Everard I was terrified. The fact that she was walking home and a police officer kidnapped and murdered her, when we in theory should feel safe around the police, makes me fear even the authorities of safety," said senior Belen Gonzalez. "I already have problems with many bad situations that police officers have been part of and this definitely made me feel much worse," she continued. 
Women everywhere are simply exhausted by the way they are treated by men in society overall. They're tired of being constantly stared at, objectified, and ridiculed when they step forward to speak about experiences that have traumatized them. 
"To make women in society feel safer, I would love if people just stopped staring in general and minded their own business, look out for us but not in a creepy way, always support women no matter what, get rid of societal biases and stop victim blaming. Don't be prejudice, try and educate yourself everyday about experiences you'll never understand, and just listen," said senior Ava Chandler. 
As this movement continues, women are hoping to raise awareness about their struggles and encourage men to take an active stand against people whose actions are hurting women. 
About the Writer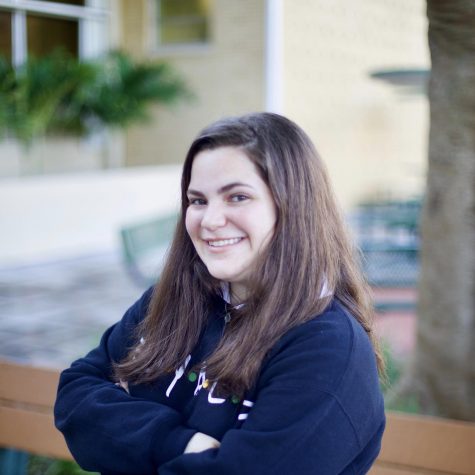 Sofia Farres, Editor-in-Chief



Sofia Farres is a senior at ILS this year and is enrolled in Journalism 2. Sofia enjoys participating in ILS service clubs and student government and hopes to pursue journalism and film in the future.